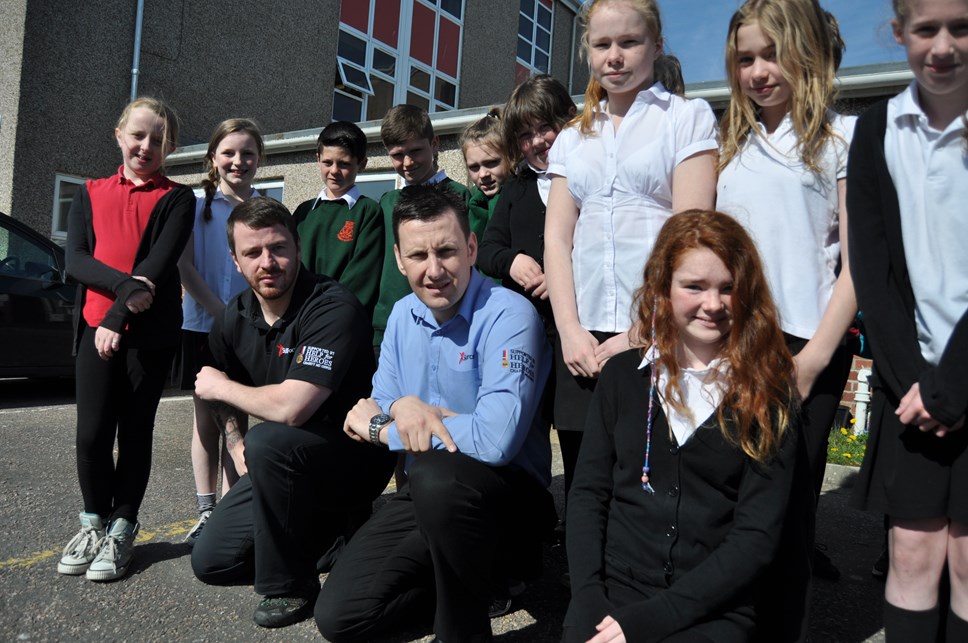 £65k Community Covenant grant boosts schools leadership programme
Scottish charity SkillForce expands its leadership programmes into primary schools thanks to pro-armed forces grant aid.
Moray's SkillForce charity has been awarded a £65,200 Community Covenant Grant to expand its operation in the area.
The organisation employs ex-servicemen men and women to run programmes in local schools that demonstrate leadership and teamwork skills, and to encourage young people to take on a larger contribution within their community.
Teams currently work across all Moray's secondary schools, but will now be able to expand into the area's primaries.
A pilot programme has been running at Kinloss with primary 7 pupils.
Part of the grant funding will be used to deliver the SkillForce Junior Prince's Award which will support young people with their transition from primary to secondary school.
Alongside normal lessons, the award programme focuses on attendance, contribution, remembrance, confidence-building and a community based action project.
Speaking at Kinloss Primary School yesterday, Dave McCallum, SkillForce regional manager, said the grant will also develop the Veterans' Transition programme.
"This project looks at three service bases at Kinloss Barracks, Royal Air Force Lossiemouth and Royal Air Force Leuchars to identify personnel who are leaving the service.
"It will demonstrate the positive impact veterans' can have on young peoples and will encourage them towards a career working with young people in education.
"The project will provide training for veterans with SkillForce, along with work experience alongside existing staff in schools."
The SkillForce Prince's Award will be delivered in secondary schools and has the same aims and outcomes of the Junior version (JPA). This is designed to inspire leadership and teamwork skills whilst at the same time supporting students with their transition to further education, training or employment.
SkillForce will also work with schools and families, improving the positive relationships needed by young people to succeed in their future.
Gayle Adnyana, Director of SkillForce Scotland said the charity was delighted to receive the grant.
"The Community Covenant grant will allow us to inspire the pupils of Kinloss Primary and other primary schools in Moray. We will be able to build young peoples' skills for life and to inspire them to grow in confidence, resilience and leadership. We are very grateful to the Community Covenant board members and the Moray Council for their kind support. We also look forward to continuing our much valued relationship with the Army Headquarters Scotland in Stirling."
Armed Forces veterans deliver all the SkillForce programmes, which helps raise the profile of the role and value of the Armed Forces, some of the issues their families and communities face, and the sacrifices made.
Moray Council's Armed Forces champion, Cllr Chris Tuke –himself a former RAF serviceman – said the work the charity does in schools is impressive.
"As a council we are delighted to support them, because you can see the results of their work in the children," he said.
"They are confident, respectful and focussed."
Cllr Anne Skene, Moray Council's chair of children and young people's committee, said the help with the transition to secondary school is of great benefit to primary7 pupils.
"This has been running in Moray for nine years now, and the difference in the young people is tangible," she said.
"The team-building, leadership and personal skills it teaches them are with them for life. Moray Council is the only authority to embed this programme in all its secondary schools, and I feel we and our young people are very lucky to have built such a strong and positive relationship with SkillForce."
The Community Covenant Grant Scheme was established to support the community covenant and to fund local projects that bring together the civilian and armed forces communities. £30 million, over 4 years, was set aside to establish the Community Covenant Grant Scheme.
Now in its third year, the scheme has seen some £11 million allocated to projects supporting the armed forces and their local communities.
Contact Information
Sharon Dunbar