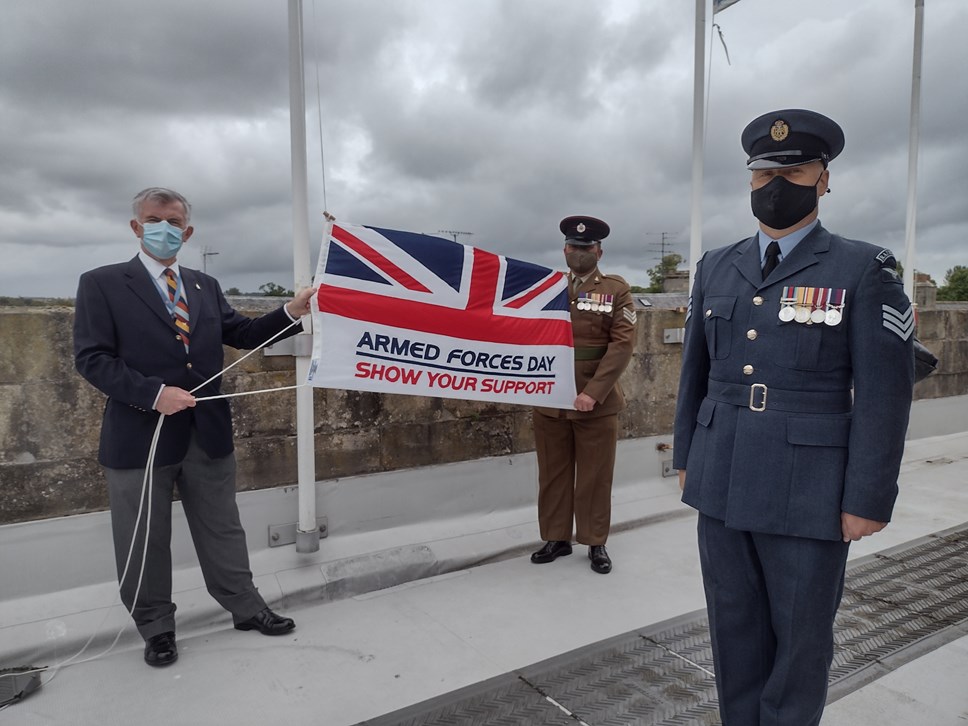 Armed Forces Day flag flies over Moray Council HQ
ARMED Forces Day (26 June) is being marked in Moray with a flag raising at Moray Council's HQ in Elgin.
Today the flag was hoisted by Cllr Donald Gatt, who is Moray Council's Armed Forces Champion and a service Veteran. RAF Lossiemouth and 39 Engineer Regiment were also represented, by Sgt Kenny Philip and Sgt Wayne Tickner, respectively.
Cllr Donald Gatt said: "Just a short time after Moray Council reaffirmed its enduring commitment to supporting and valuing our diverse Armed Forces community, I'm proud to have been joined by 39 Engineer Regiment, and RAF Lossiemouth, to fly the flag recognising the tremendous contribution of our Armed Forces here in Moray."
Lt Col JD Stuart RE, Commanding Officer 39 Engineer Regiment, said: "On behalf of the wider 39 Engineer Regiment family I'd like to thank the people of Moray for their continued support in what has been a particularly demanding time for both the Regiment and the Nation.
"Your support has been, and will continue to be, invaluable to us especially with large elements of the Regiment routinely deployed both overseas and at home. The support for our families while much of the Regiment were deployed around Scotland and the UK in support of the fight against COVID-19 was particularly important. It was especially pleasing for us to be able to give back to the local community as we supported Community Testing throughout Scotland and in particular in the Highlands.
"Kinloss remains a fantastic place for the Regiment to be based and we look forward to further strengthening our ties with the local community over the years to come."
Group Captain Chris Layden , Station Commander RAF Lossiemouth, said: "I take great pride in knowing that over the difficult year we have faced, the Whole Force at RAF Lossiemouth continue to be so well supported by the thriving community of which we are a part.
"Whilst we continue to secure the skies and the seas, we reflect on over 80 years of deep and enduring relationships with the people of Moray, and thank them for their friendship."
Contact Information
Moray Council Press Office