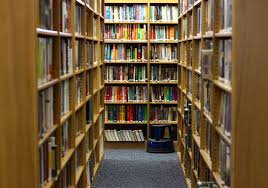 Book amnesty at Moray's fully open libraries
Moray Council's library service is inviting users to return outstanding book loans for free until 21 August, while returning to use libraries confidently in-person again.
From Monday 23 August fines will be re-introduced for overdue books, audio books, CDs and DVDs, following a period of suspension during the covid-19 pandemic.
Library users currently have 41,171 items on loan, with 11,871 of these dating back to pre-pandemic borrowing, preventing other book fans from getting the chance to read some popular titles.
Moray's libraries are all fully open again with one-way systems, sanitising stations and face coverings keeping visitors and staff safe.
Interim Principal Librarian, Philip Davidson, said: "While many of our users have made the most of our online offering and app throughout the pandemic, we're excited to welcome everyone back to our libraries.
"We've seen a gradual re-opening of our services and now we're keen to make sure everyone who enjoys coming to visit us in the way they used to, can do so with confidence.
"We're also aware that some people have items on loan from before the first pandemic lockdown and we'd really appreciate these coming back now so other readers can enjoy them."
There will also be a sale of withdrawn library stock at Elgin Library from 10am on 23 August until 12pm on 25 August.
Contact Information
Moray Council Press Office