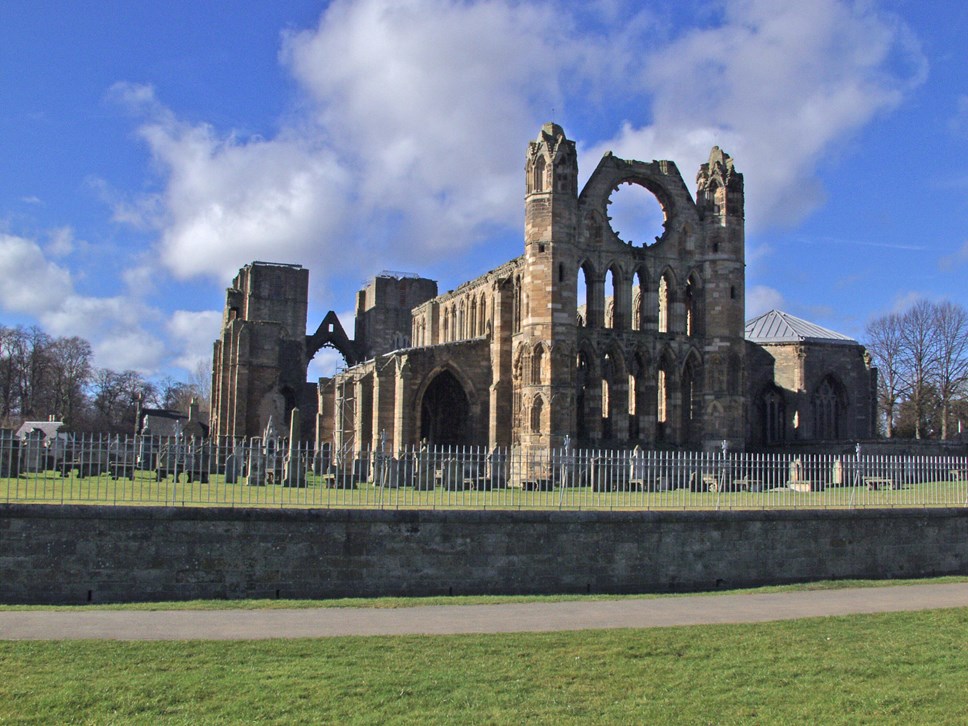 Bringing Elgin's historical characters to life – Sculpture Competition
Lottery-funded project to create a sculpture in Elgin announced
Elgin is to have a new city centre sculpture to reflect its rich heritage.The Castle to Cathedral to Cashmere project is today inviting new, emerging or established UK-based sculptors to send in a proposal for an imaginative, permanent and high quality public sculpture which will be sited in Elgin's town centre.
The funding for the project will be met by Heritage Lottery Fund and funding from the Castle to Cathedral to Cashmere partnership.
The works can be either commemorative or purely/artistic/decorative but if they involve a character the Castle to Cathedral to Cashmere project have specified that it should be one of three characters: either the Wolf of Badenoch, a 14th century rogue responsible for burning down Elgin's cathedral; a market trader or the town drummer William Edwards who died in 1822.Other requirements are that the works should:
convey an obvious connection with Elgin's past
encourage interactivity i.e. make people want to touch, sit on, or play with it.
be constructed from high-quality materials that are robust, weatherproof and vandal-proof
be designed to last for many years
enhance the important public spaces in which they are located
present no danger to the public
Chairman of the Castle to Cathedral to Cashmere Project Jim Royan said: "The artworks should illustrate a particular aspect of Elgin's heritage and should appeal to both locals and visitors alike.Our aim is to engage, educate, excite and intrigue the public within the context of our rich heritage and help Elgin to become established as a compelling visitor destination.Ultimately, the main aim of the project is to involve more people in its history and spark the imagination of those who live, work and visit this area, conjuring up scenes from the past, telling unseen stories and bringing the heritage of Elgin to life.
"This unique and exciting challenge will not only offer a great opportunity for artists to design, develop and produce an original piece as part of the Castle to Cathedral to Cashmere Heritage Initiative, it will create a centre piece and become a key part of Elgin's public realm townscape for many years to come, where visitors and members of the community in Elgin's 21st century Elgin can experience and enjoy coming face to face with a historical character from Elgin's past".
Short-listed entrants will be asked to work up their proposals to a more detailed level which will be put on display to engage public support, after which the final appointment will be made.It is estimated that the works should be in place by the end of this year.
Full details including application guidance about the competition can be downloaded here. Proposals should be submitted by no later than midday on Friday 15th April 2016.
The Castle to Cathedral to Cashmere heritage experience will bring over 1000 years of history alive through various mediums ranging from website with mobile technology, Orientation point, 3D high definition scanning, interpretation at over 25 sites, signage and public realm / access works.
Moray Council area stretches from Tomintoul in the south to the shores of the Moray Firth, from Keith in the east to Forres in the west. The council and its 4,500 employees respond to the needs of 92,500 residents in this beautiful part of Scotland, which nestles between Aberdeenshire and the Highlands.
Famous for its colony of dolphins, fabulous beaches and more malt whisky distilleries than any where else in Scotland, Moray is a thriving area and a great place to live.
Headquartered in Elgin, the administrative capital of Moray.
Contact Information
Sharon Dunbar