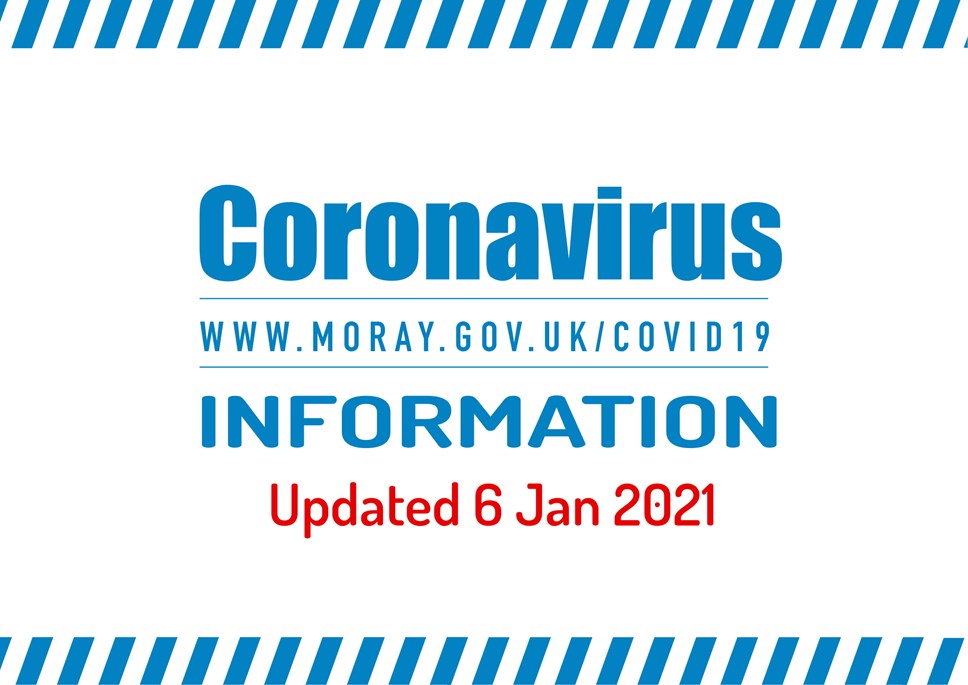 Changes to council services 'inevitable' during lockdown, says Moray Council's Chief Executive
FURTHER changes to Moray Council services are inevitable in light of the latest lockdown measures, its Chief Executive has warned.
Moray, along with the rest of mainland Scotland, entered a temporary lockdown yesterday (5 January), with all residents instructed by law to remain at home other than for essential purposes as set out by the Scottish Government.
Before Christmas, Moray Council set out upcoming changes which would come into effect with expected Protection Level 4 restrictions on 26 December. These are being revised to reflect emerging national guidance.
Chief Executive, Roddy Burns, said: "Once again we find ourselves in a national lockdown in an effort to suppress the spread of Coronavirus. These measures, although necessary, are extremely challenging for residents and businesses, and I want to thank people in Moray in advance for their co-operation.
"Having spent much of last year living with restrictions I recognise it's a tough ask to endure another lockdown, but I also know how willing Moray is to comply with the rules to keep our loved ones safe and protect the NHS.
"We are awaiting more detailed guidance from the Scottish Government which will help us determine which council services can continue to operate and which need to be adapted or stopped during lockdown. We will let residents know as these are confirmed, and ask they keep an eye on local press, our website and social media for updates."
Schools, keyworker learning and childcare, and vulnerable children
Schools will be closed to pupils during January, with the exception of children of keyworkers, and vulnerable children and young people. This provision begins today (6 January) and operates during school hours, with a staggered start, in all schools. Children of keyworkers will attend their normal school or nursery.
Families with vulnerable children (including children with Additional Support Needs) will be contacted directly by the school.
Specialist education services:
Music: will be provided remotely as far as possible and more information will be provided to parents as soon as possible.
Sensory Education Service/English as an Additional Language: support will be provided based on where the children are located. The service will be predominantly remote, but there may be some in school support if children are attending school.
Early Learning and Childcare (ELC) and childminders

All Early Learning & Childcare (ELC) settings will open for keyworker and vulnerable children only during January. Childminders are also permitted to open.
Remote learning
Will be in place for all pupils 11-29 January 2021 – details to follow from schools directly.
Most families have been provided with devices to support remote learning but if your situation has changed and you now require a laptop, please contact your school in the first instance where we will endeavour to support digital access. Arrangements will also be made for pupils who cannot participate in digital learning.
Free school meals for those eligible on financial grounds
Families of children not attending school or early learning and childcare (ELC) will continue to receive direct payment into bank accounts..
A payment will be made on 12 Jan 2021 to cover the weekdays of Tues 5 Jan to Fri 15 Jan 2021.
If your child normally attends primary school or ELC you'll receive £20.70 (nine school days at £2.30 per weekday). If your child normally attends secondary school you'll receive £21.60 (nine school days at £2.40 per weekday).
A further payment will be made on 19 Jan 2021 and then on a fortnightly basis whilst the schools remain closed and home learning continues.
If your child normally attends primary school or ELC you'll receive £23 (10 school days at £2.30 per weekday). If your child normally attends secondary school you will receive £24 (10 school days at £2.40 per weekday).
Find out if you are eligible and how to apply at www.moray.gov.uk/moray_standard/page_55486.html
Sport and leisure facilities
Indoor leisure facilities will remain closed during January.
No indoor lets will be permitted during this time, however non-contact outdoor activities for under 12s and professional sport are permitted so Astro Turf bookings for under 12s and professional sport will be continued for evening and weekend bookings.
Repairs and maintenance to council homes
Only essential repairs will be completed. The smoke and fire alarm, and heating replacement programme will be suspended until further notice. Contractors will contact tenants directly to cancel appointments already made.
This will be kept under regular review to reflect the latest Scottish Government guidance.
Bin collections, recycling centres, public toilets and gritting
There are no changes proposed to any of these services as a result of temporary lockdown restrictions. Recycling centres remain open.
Registration offices inc. birth and death registrations
Death and still-birth registrations are being carried out remotely five days a week.
Births registered on Mondays/Tuesdays and Thursdays, with details captured over the phone by registrars and a strict appointment system for face-to-face signing of papers. Social distancing will be observed and residents should not enter the registration office without a valid appointment.
Those looking to register a birth should contact our registration office (01343 554600) to make an appointment.
Marriages and civil partnerships
At the moment marriages and civil partnerships can still go ahead, with a maximum of 5 people.
Contact Information
Moray Council Press Office