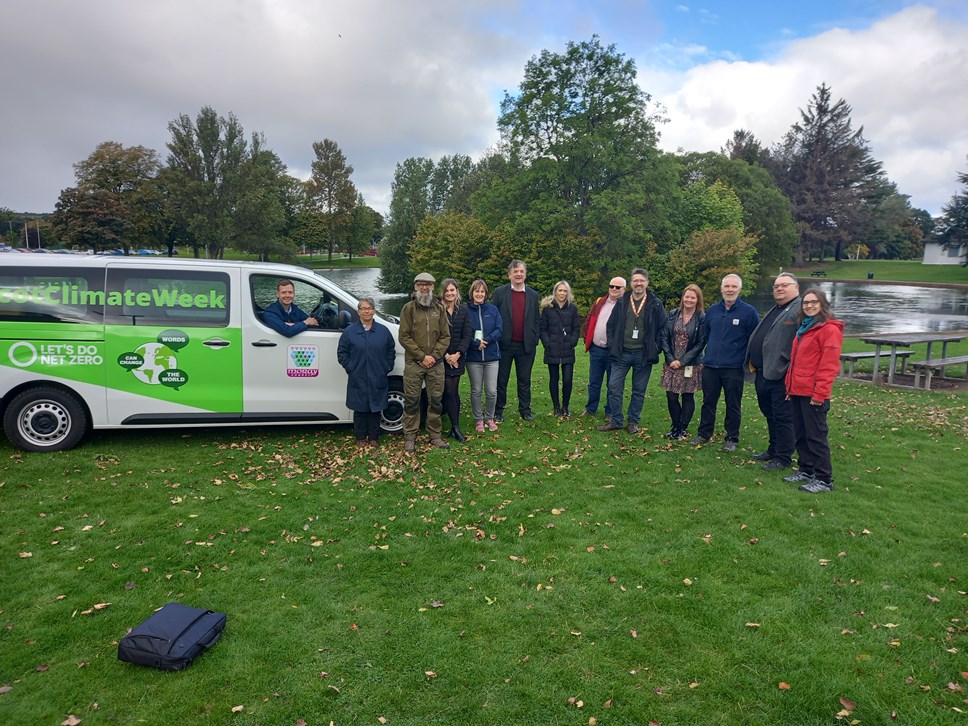 Climate Week in Moray
Scotland's Climate Week, 26 Sept-2 Oct 2022, sees Moray Council officers joined by tsiMoray and other partners to promote climate action taking place in Moray and encourage discussion about climate change.
The annual event aims to raise awareness of the global climate emergency and to encourage climate action across the country. As well as visiting primary and secondary schools in an electric vehicle, the Climate Week team will be engaging with the public.
Join the climate week team to find out more at:
Wednesday 28 September
Moray Wastebusters (by Forres): 2.30pm to 3.30pm
Thursday 29 September
Buckie Library: 11am to 12.30pm and Keith Square: 1.30pm to 2.30pm
Friday 30 September
Elgin Plainstones: 10.30am to 12.30pm
The week's events officially began with a launch at Elgin Library on Monday 26 September, attended by the council's climate change team, representatives from tsiMoray, REAP, Zero Carbon Moray and Richard Lochhead MSP.
Moray Council's Climate Change Champion, Cllr Draeyk van der Hørn, said: "The climate crisis is already having a significant impact across the world, including in Scotland. But collectively we can work to reduce our emissions to net zero and help create a climate ready Moray.
"Right now, more than ever, it's important to create conversations that make a difference. This week, let's share ideas and support each other in taking action to restore our world's climate and biodiversity. We have no planet B. We look forward to seeing you and let's talk."
tsiMORAY's Third Sector Development Officer, Louise Nicol, added: "Tackling climate change means we must keep the climate conversation going in our local communities. We're excited to be on the road with Moray Council and other partners to highlight what's happening in the third sector and to hear what people are looking for so we can help them on the climate change journey. If we are to make the changes needed to combat climate change, it will take all of us working together."
To find out how to join in with Climate Week visit https://www.netzeronation.scot/ for more information. Moray residents are invited to share how they're taking action this Climate Week using the hashtag #ScotClimateWeek on social media.
Contact Information
Moray Council Press Office