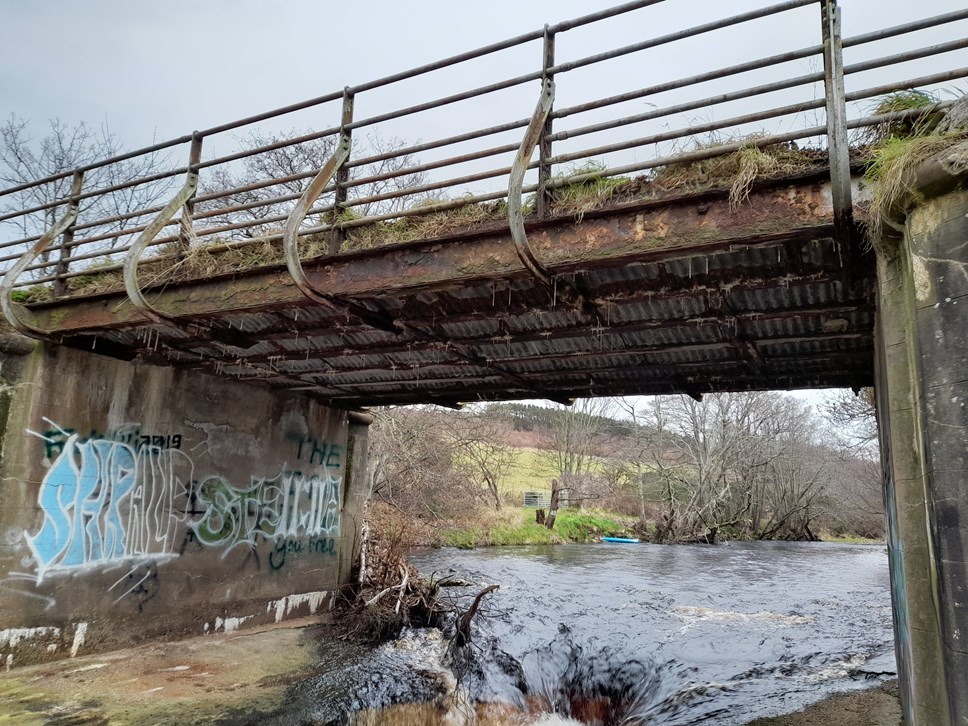 Cloddach Bridge to close to vehicles tomorrow
MORAY Council will close the Cloddach Bridge, near Birnie, to all motorised vehicles with effect from tomorrow (4 Feb).
A specialist inspection has been carried out over the last week by a senior engineer from Moray Council, which revealed substantial corrosion and degradation of the structure. Therefore the bridge will close on public safety grounds.
In 2019 the weight-bearing capacity of the structure was around 60% of the capacity of when it was built in around 1905. However there has been rapid deterioration as a result of weathering, wear and tear, and repeated overloading of vehicles despite mitigations such as height and weight restrictions being implemented. This has significantly reduced the weight-bearing capacity to 45%. As 32% of the original capacity is required to carry the bridge's own weight there is only 13% remaining strength for traffic loads, and as such it is unsafe for use by motorised vehicles.
A temporary closure is in place while an independent inspection is carried out. It's due to take place within the next few weeks and the findings will set out if a repair is possible and indicative costs.
Signage will be installed at the bridge to advise motorists of the diversion, and barriers in place to prevent vehicular access. It remains open for pedestrian and cycle use, however the barriers may cause access issues. The diversion route for vehicles is via Elgin, following the B9010 >> Pluscarden Road >> Wittet Drive >> Wards Road >> Station Road >> New Elgin Road >> Main Street >> Birnie Road.
Emergency services were consulted prior to the weight and height restrictions being implemented and raised no concerns, and they have also been notified in advance of the closure.
Moray Council's Head of Environmental and Commercial Services, Stephen Cooper, said: "Public safety is our paramount consideration and, given the rapidly-deteriorating condition of the structure the council faces no alternative option and must close the bridge.
"We know that a diversion is inconvenient for local residents – and others – and apologise for the disruption this will likely cause."
Contact Information
Moray Council Press Office