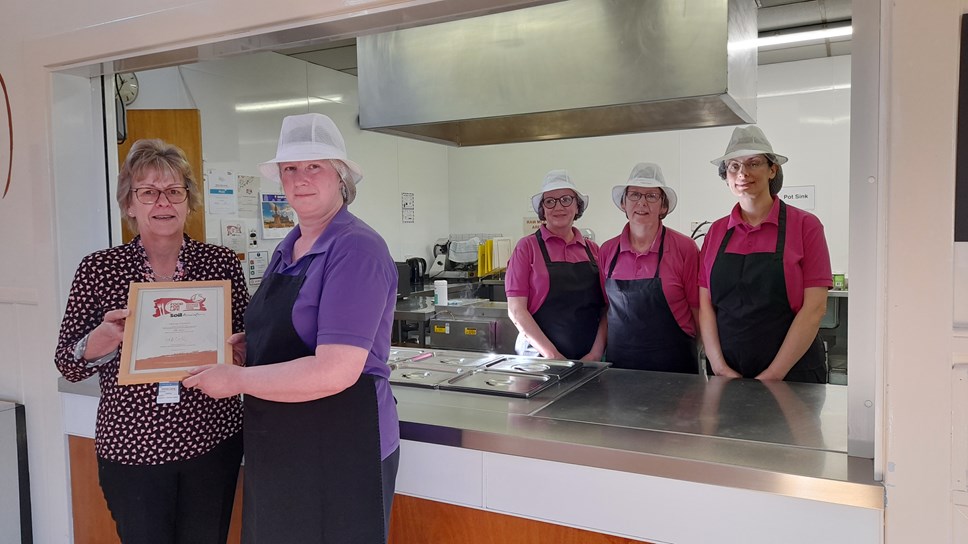 Council catering teams serve up national award
Catering teams at Moray Council have been recognised for their efforts to put more local food on school dinner plates and serve freshly prepared and sustainable meals.
Primary school kitchens have achieved the Food for Life Served Here bronze award for the second year running and this year the accreditation has been extended to include council nurseries.
Staff serve up nearly 3,700 meals across 98 sites each day and the award signifies that a minimum of 75% of dishes are freshly prepared from unprocessed ingredients. Meals are also free from undesirable trans fats, sweeteners, additives and all genetically modified ingredients. Catering teams also use free range eggs, higher welfare meat and ingredients from sustainable and ethical sources.
The council works closely with local suppliers to source fresh, sustainable produce as part of its Food for Life certified meals, with catering teams working flexibly to incorporate surplus items from producers in to school menus.
Pupils regularly enjoy:
Fresh milk from Graham's Family Dairy in Nairn
Seasonal vegetables from Swansons Fruit & Veg in Elgin
Free range eggs from Allaburn in Elgin
Quality meat from Andersons Butchers in Buckie and Fraser Brothers Butchers in Forres
Fresh bread supplied to schools in Keith and Fochabers by Strathisla Bakery, Keith
Council Leader Cllr Kathleen Robertson, who is also chair of the Education, Children's and Leisure Services Committee, said: "I am delighted our catering teams have been recognised for the fantastic work they do to provide healthy school meals that have a positive impact on pupils' wellbeing and learning potential. All our staff involved in the service should be very proud.
"As a council we are committed to ensuring our children and young people have access to nutritious, sustainably sourced meals and this in turn is supporting the food producers and suppliers in our local economy."
Catering manager, Elaine McRae, said: "The award recognises our work to make healthy eating easier for pupils. Menus are planned to the Food for Life Served Here standards which support staff to be more aware of seasonality and provenance. We have seasonality charts and posters in our dining halls and this helps everyone to understand more about the journey their food has been on from farm to fork."
Head of Food at Food for Life Scotland, Sarah Duley, said: "We would like to congratulate Moray Council for renewing their Food for Life Served Here bronze award for their primary school meals, and extending the award to all ELC settings. This is a huge achievement and shows that staff are dedicated to providing every child with a meal that's healthy, freshly prepared and sustainably produced.
"It has been a pleasure working with Moray Council who are working hard to maximise the value of school food and the positive impact it can have on local communities."
All children are eligible for free school meals until they reach P6. For P6-7 pupils, each tasty and nutritious two-course meal costs just £2.40 which represents great value for money. Find out more about lunch menus in ELC, primary and secondary schools, including entitlement to free school meals, on the council website.
The Food for Life programme, led by Soil Association Scotland, provides a framework through which local authorities can ensure they are serving food that's good for health, the environment and the economy. Moray is one of 18 councils which currently hold accreditation for their school meals.
Contact Information
Moray Council Press Office