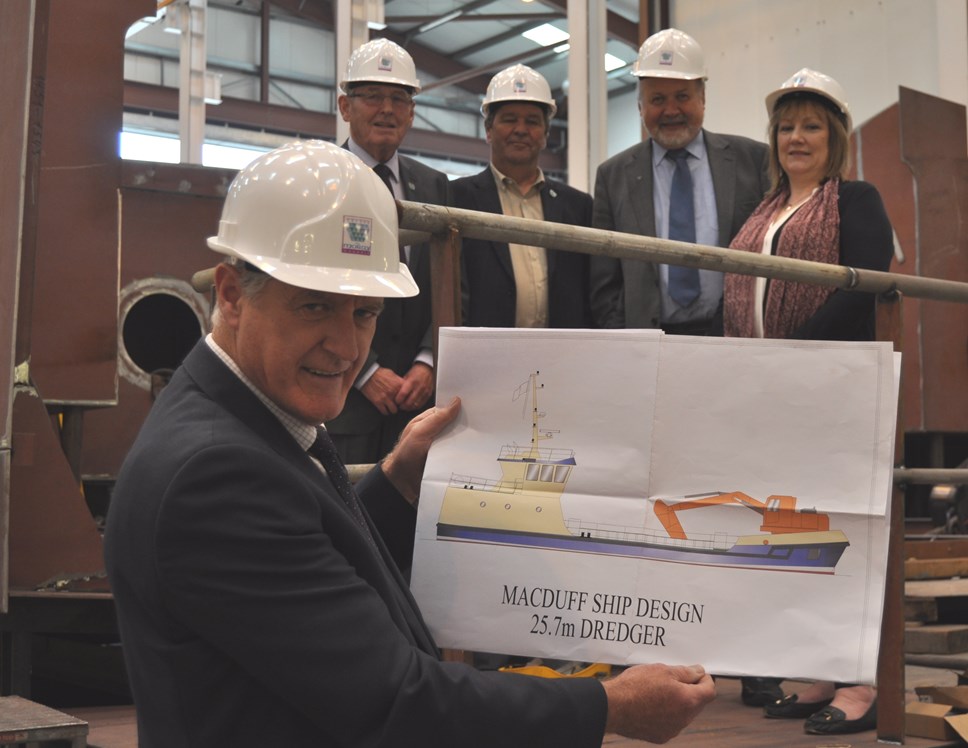 Councillors view progress on new £2.4million dredger
Councillors today got their first close-up view of a new custom-built harbour dredger being built for Moray Council.
Councillors today got their first close-up view of a new custom-built harbour dredger being built for Moray Council.
The £2.4million vessel will be the only dredger in Scotland operated by a local council.
The 25.7m(90ft) dredger is under construction at the Macduff Shipyard Ltd fabrication facility at Buckie, and is expected to be completed next spring.
It will service the council-owned harbours at Buckie, Burghead, Hopeman, Findochty, Portknockie and Cullen as well as being available for hire to coastal councils across Scotland.
A key feature of the new dredger is that it can access and clean out smaller harbours that have silted up.
The vessel is being built as a replacement for the Shearwater, which the council scrapped and sold two years ago after many years of service.
The new dredger, which was designed by Macduff Ship Design Ltd, will be capable of dredging to a depth of 8m (27ft) with its bow-mounted excavator.
Councillor John Cowe, who chairs Moray Council's economic development and infrastructure services committee, visited the construction shed at Buckie with local coastal councillors Gordon Cowie, Gordon McDonald, Sonya Warren and Ron Shepherd.
They were shown round by site manager Stuart Mack and watched work under way on the stern of the vessel and the wheelhouse.
Councillor Cowe was delighted to see work progressing so well and said it was also gratifying to see the dredger being constructed just across the road from Buckie harbour where it would be a regular sight and its capabilities would be put to good use.
"Buckie harbour is a massive asset to Moray in terms of economic development and keeping it accessible to commercial traffic is of vital importance," he said.
"This is a significant investment in our harbours and the local economy by the council, and highlights this administration's commitment to the prosperity of Buckie.
"I look forward to returning regularly as the new vessel takes shape and to see her completed and operational next year."
Moray Council area stretches from Tomintoul in the south to the shores of the Moray Firth, from Keith in the east to Forres in the west. The council and its 4,500 employees respond to the needs of 92,500 residents in this beautiful part of Scotland, which nestles between Aberdeenshire and the Highlands.
Famous for its colony of dolphins, fabulous beaches and more malt whisky distilleries than any where else in Scotland, Moray is a thriving area and a great place to live.
Headquartered in Elgin, the administrative capital of Moray.
Contact Information
Sharon Dunbar