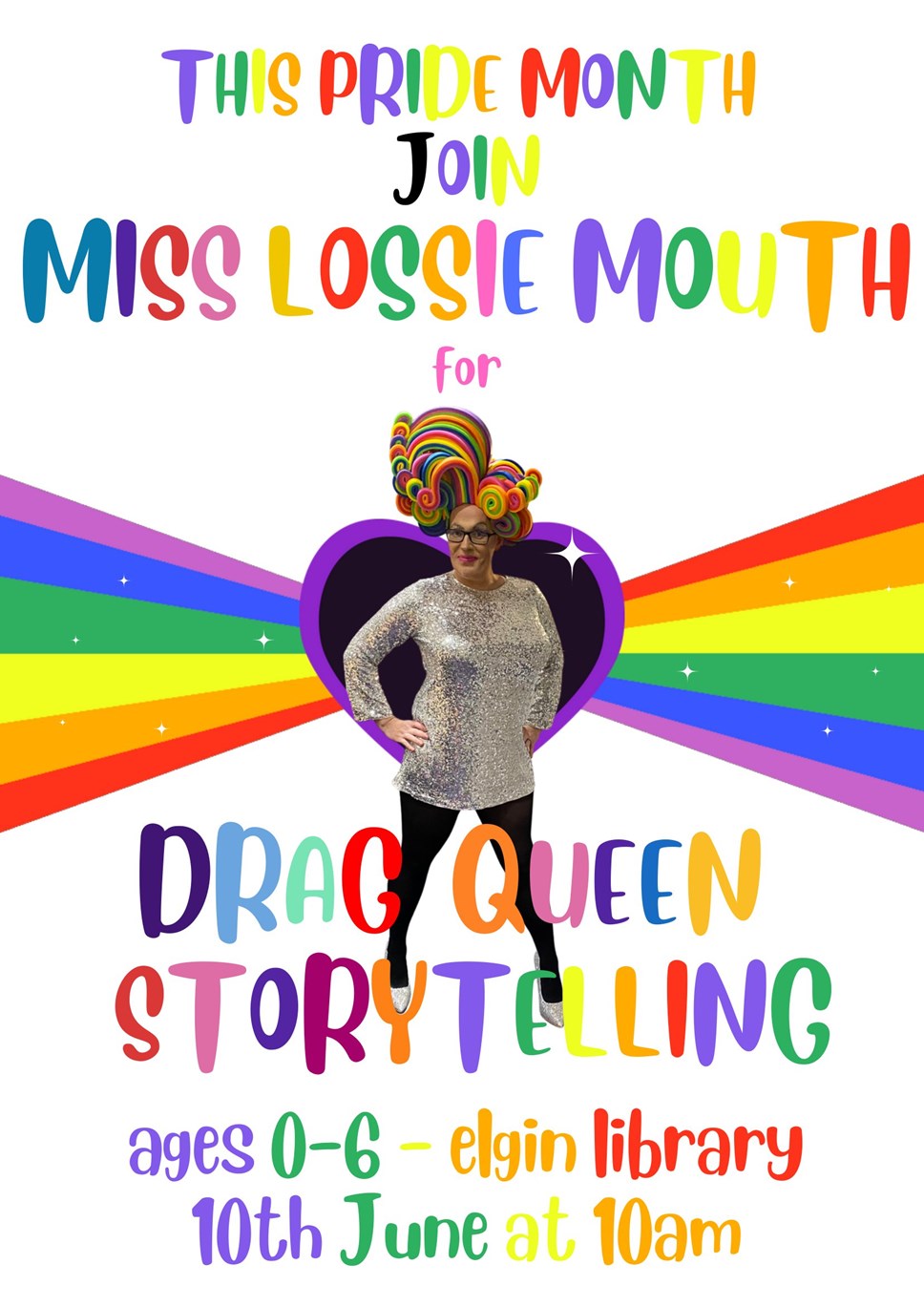 Drag Queen Story Telling sashays into Elgin Library
Moray's first Drag Queen Story Telling brings a touch of glamour to Elgin Library on Saturday 10 June as the libraries service celebrates Pride month.
Running from 10am, Moray's very own Miss Lossie Mouth, will lead a fun and interactive show suitable for children aged 0-6.
Encouraging children to develop a love of reading through imaginative story time, while promoting inclusion, diversity and acceptance is the order of the day and Miss Lossie Mouth, aka John Campbell, can't wait to get the party started.
"As a teacher myself I appreciate the way to instil a love of reading from an early age is to make it fun. That's exactly what Drag Queen story telling does with an engaging hour of colourful, joyous stories. I can't wait to read to Moray's youngest residents and see them enjoying books like 'And Tango Makes Three', 'Zee Zee the Zebra', and 'Unicorn NOT Wanted'."
Sean McNamara from the Chartered Institute of Library and Information Professionals (CILIP), added: "As the professional body for library workers we encourage and support our members to be creative in how they encourage young readers to develop their interests.
"Libraries exist to support every member of their community and to encourage people to learn about the world around them in a respectful way. Drag Queen Story Telling has proved to be an extremely popular way of doing just that and has a demonstrably positive effect on children's reading and engagement and is a valuable way of teaching literacy skills. We wish Moray Libraries all the best for a fun story time."
Moray Council's Principal Librarian, David Hayden, also noted the significance of June being Pride month: "Our libraries teams have fantastic themed displays throughout the year and Pride is a particular favourite as it livens our libraries up even more.
"Having Miss Lossie Mouth taking part in story time for our young readers is a great way to promote equality, diversity and inclusion. We're breaking down barriers in so many ways with this initiative – getting our youngsters into libraries, encouraging confidence to be themselves and promoting acceptance. I know a number of wee ones who will be very excited to get to the library to make some noise and join in the fun."
This event is not being hosted by Drag Queen Story Time UK or include a Drag Queen Story Time UK performer.
Contact Information
Moray Council Press Office