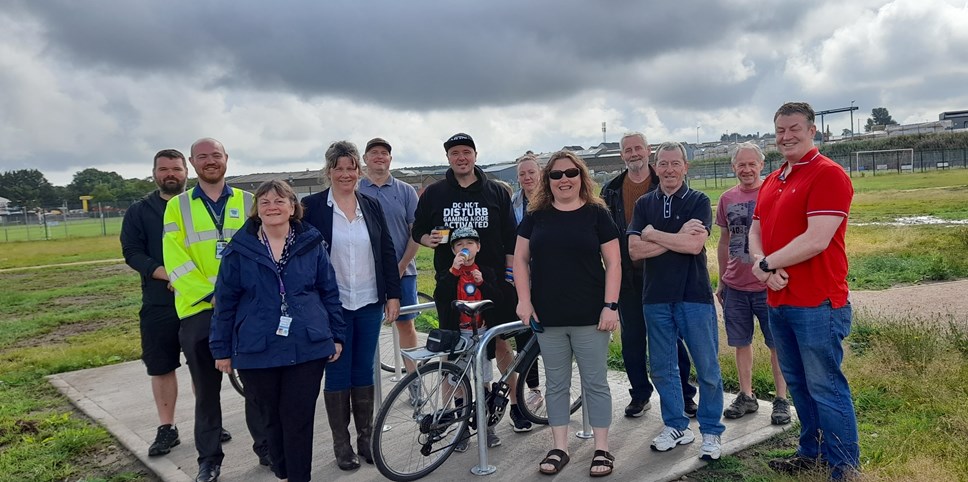 Elgin allotments site handed over by Moray Council
An area of land in Elgin is ready for cultivation as new allotments for local residents.
Moray Council has formally handed over ground at Pinefield to the Elgin Allotment Association which has taken on management responsibilities for the site.
The well-established Elgin Allotment Association currently runs a successful small organic garden share project in Elgin and has been supported by the council's Community Support Unit to work with the council project team through the process of securing the allotment site.
The area at Pinefield, to the south-west of the existing playing fields, was granted planning permission some years ago. The newly-completed site works, which includes an access from Ashgrove Road, car parking spaces, a bicycle rack and paths, have been funded through the council's Place Based Investment Programme.
Secretary of the allotment association, John Kennedy, said he was looking forward to getting all allotment holders together to discuss the next steps for the site following the official signing of the lease by their chair, Graeme Hamilton.
"All 22 official plots have been allocated to individuals and groups, and everyone is looking forward to getting started on their area of land. We have secured funding for sheds which will start coming in next month and we're also looking to install a compostable toilet on the site and a community shed where we can bring local people together," Mr Kennedy said.
"We are grateful to all departments of the council which have worked to get us to this day and our special thanks goes to the Community Support Unit for their exceptional support. We have learnt a great deal along the way and welcome contact from other groups in Moray keen to develop their own allotment sites so we can hopefully make it an easier path for them."
Vice-chair of the allotment association, Dorothy Allan, said: "It has been a long journey to get to this point but all the work has been worth it. This site will be a power hub of health and wellbeing for the whole community. We are looking forward to welcoming in our neighbours and to holding community workshops and activities for all ages."
Chair of the council's Corporate Committee, Cllr Bridget Mustard, said: "This is a wonderful community initiative which the council is pleased to be able to support. The allotments will be a focus for local people, enabling them to enjoy the outdoors and meet with others as they grow their own produce and share their harvest with others. I wish everyone involved happy growing."
The Community Support Unit maintains a Moray-wide allotment waiting list. Further information is available on the council website here.
Contact Information
Moray Council Press Office