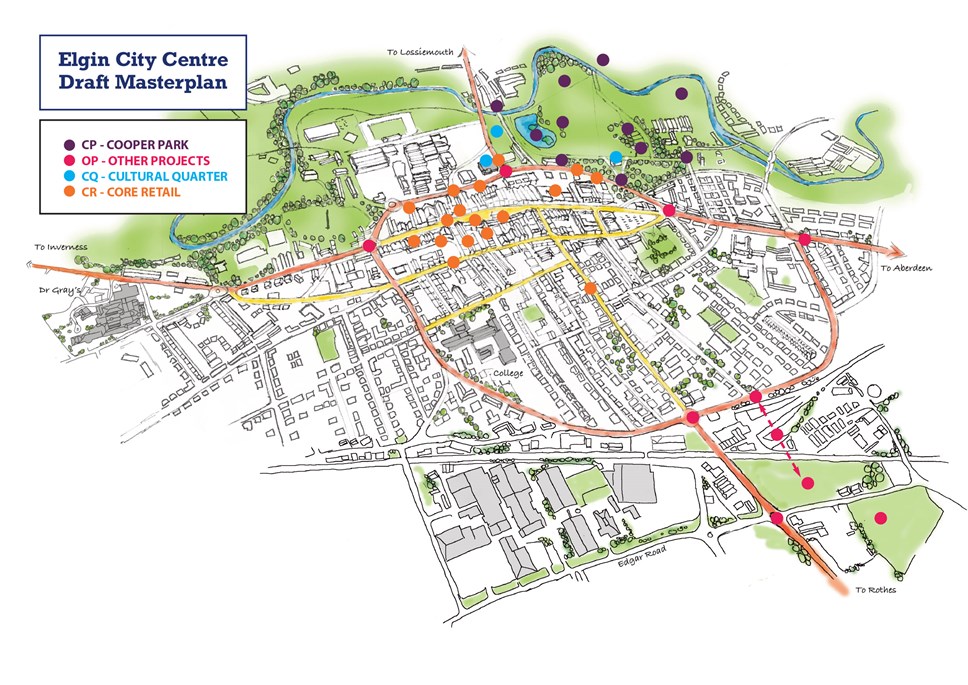 Elgin City Centre Masterplan consultation extended
Moray Council has extended the public consultation on the draft Elgin City Centre Masterplan to 30 July.
Locals and interested parties have an extra six weeks to have their say and feedback on the exhibition of plans for the redevelopment of the centre of Elgin, which is available to view in a variety of formats on Moray Council's website.
There will also be an opportunity to speak with the team behind the plans at a drop-in event in Cooper Park on 24 July. More details on this outdoor family consultation event will be published nearer the date and will be in-line with covid-19 safety restrictions in place at the time.
Meantime, Moray's young people are also being given more time to enter the Cooper Park design competition, which now closes on 26 June.
Chair of the Economic Growth, Housing and Environmental Sustainability Committee, Cllr Graham Leadbitter, said: "We would usually host a number of in-person consultation events for such a large transformation project like this but for obvious reasons we've not been able to do that this time. However, all being well, restrictions will have eased enough to allow us to hold this outdoor event in Cooper Park on 24 July where we'll showcase the redevelopment plans we want to see for Elgin.
"We've had fantastically constructive feedback so far via our survey, so we want to give a bit more time for people to consider their vision for the centre of Elgin, especially now we're able to plan some in-person consultation events.
"This process also helps us prepare best practice for future consultations for other towns in Moray when we come to develop their masterplans."
Contact Information
Moray Council Press Office