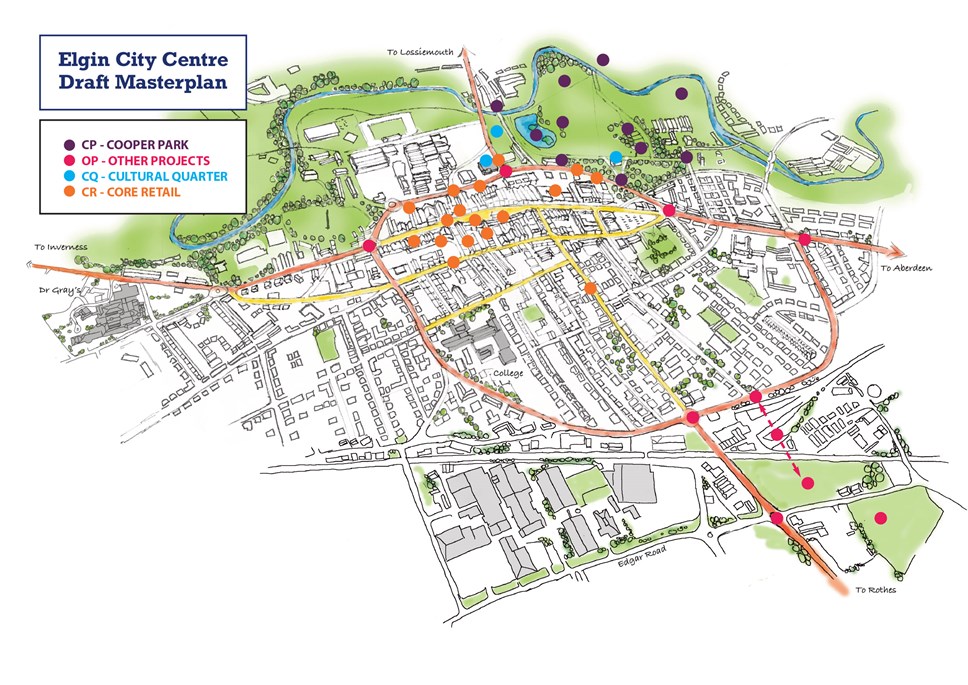 Feedback requested on draft Elgin City Centre Masterplan
A PLAN to create a well-connected, healthy, green and carbon-conscious Elgin City Centre has been published today by Moray Council.
The draft Elgin City Centre Masterplan, produced in partnership with the local community, seeks feedback from locals across Moray. A similar process will be rolled out for towns across Moray.
The key objectives are to support local businesses; encourage young people to stay in Moray; reduce carbon emissions and improve healthy lifestyle options for people living, working in and visiting the area.
The proposals consider a long-term programme of projects to help Elgin City Centre bounce back from covid-19, be inclusive and attractive, and have been developed in collaboration with Elgin Community Council and Elgin BID.
The online exhibition sets out the aims of the plan and the projects that could help to achieve them. The exhibition is available to view and feedback online until 14 June 2021. Accessible documents are also available to view on Moray Council's website.
Virtual public information drop-in sessions will take place on Tuesday 20 and Thursday 29 April. Residents will be able to meet the team behind the masterplan to ask questions and make suggestions. Links to Eventbrite bookings will be available soon.
The £100m Moray Growth Deal will support four of the major projects that have close links with the masterplan for Elgin City Centre including the housing mix delivery; creation of a business enterprise hub; development of the cultural quarter; and establishing the digital health project. The full Growth Deal package is backed by both the Scottish and UK Governments, who, alongside public and private sector investment, are contributing £32.5m each.
Contact Information
Moray Council Press Office