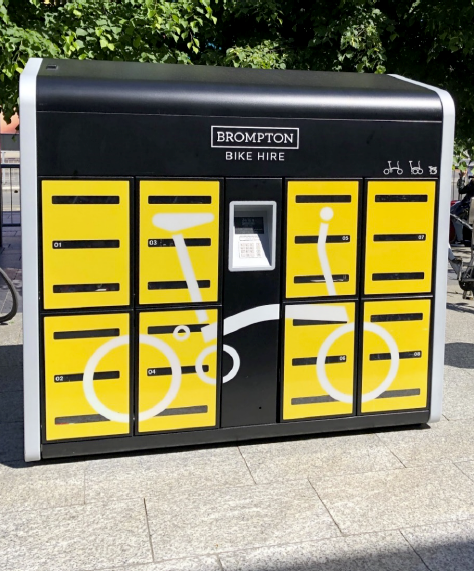 Folding bikes available to hire in Elgin
FOLDING bikes are now available to hire in Elgin as part of a pilot project in the area.
Moray Council is supporting HITRANS, the regional transport partnership for the Highlands & Islands, and Brompton Bike Hire to bring the service to Moray.
A self-service hire kiosk is now operational at Elgin Railway Station, housing eight folding bikes in a solar-powered unit. Folding bikes offer the versatility of using several modes of transport for a journey; they can be easily carried on buses, trains or in the boot of a car.
Those who join the Brompton Bike Hire scheme can make a reservation to hire or return a bike using the GO-HI app on their smartphone
Access to the bike kiosk is via an ATM-style keypad and screen. Hire charges are a flat rate per 24 hours and can be hired from one location, return to a different one, and bikes can be kept for as long as a person wishes, providing the charge is paid. Frequent users will pay just £3.50 per day to hire a Brompton bike, while for casual users the fee is £6.50 per day.
The bikes will appeal to people travelling out of Elgin on business or leisure trips, enabling them to take a bike on the bus or train then complete their journey swiftly at the other end. They will also be useful for visitors to Elgin, who can pick up a bike at the railway station and make use of the excellent well-signed cycle routes around town.
The project has been made possible with funding from Transport Scotland and is being delivered as part of the HITRANS Regional Active Travel Strategy, which is working to increase walking and cycling across the region.
Ranald Robertson, Director at HITRANS, said: "Brompton folding bikes offer an excellent solution to integrating cycling with public transport which will benefit both residents and visitors to the region. They improve the choices for sustainable and active travel, and also address Government ambitions to reduce carbon emissions by encouraging a modal shift from sole occupancy cars to more sustainable transport."
Moray Council's Transportation Manager, Nicola Moss, said: "Connectivity is a major consideration when people make travel plans, so it made perfect sense to locate the bike hire kiosk within the council's car park by the railway station in Elgin. We hope this will encourage more sustainable and active travel as the infrastructure is put in place to support choice."
Contact Information
Moray Council Press Office