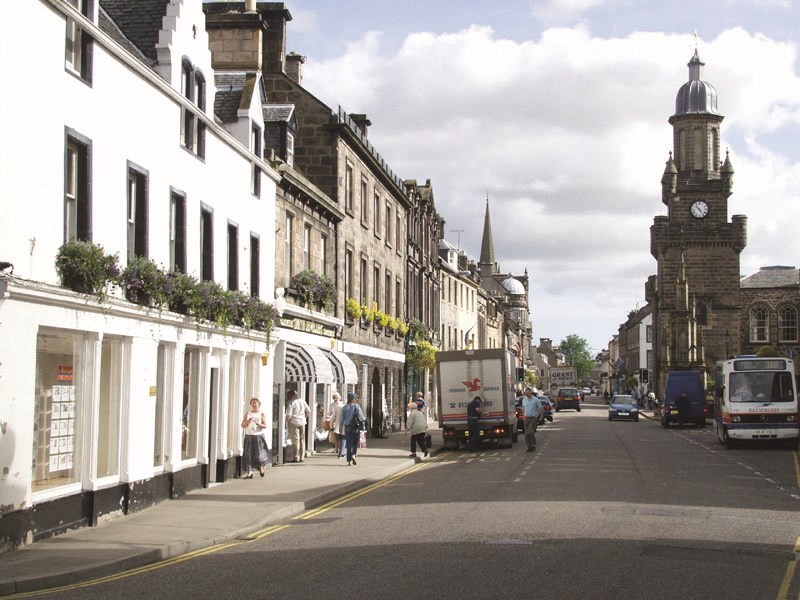 Funding plan for Forres Town Centre Improvement
Moray Council is to pursue newly launched National Lottery Heritage Fund and Historic Environment Scotland schemes to fund the Forres Town Centre Improvement Plan.
After approval by the Economic Development and Infrastructure Committee, officers will submit a bid for funding to assist with the plan which also seeks to bring vacant and derelict sites back into use, improve active travel connections, greening and other streetscape improvements in order to create a vibrant; attractive; green; healthy, safer and inclusive town centre.
Speaking after the committee, Chair, Cllr Marc Macrae, said: "The objectives of the Forres Town Centre Improvement Plan align well with the criteria and aims of these two funding streams.
"It's encouraging to note the funders are working in partnership and I hope they appreciate the benefits to an extremely historic town like Forres that their funding could have.
"There are many exciting prospects on the horizon for Forres and I look forward to seeing this funding application progress."
The Forres Town Centre Improvement Plan objectives include:
Strengthen the unique sense of place of Forres Town Centre by creating a high quality experience of shops, attractions and facilities for the community and visitors.
Promote Forres as a place that is welcoming and pleasant to spend time in, that is green and easy to get to on foot and by bicycle.
Support the refurbishment and regeneration of Forres Town Hall.
Create a high quality heritage interpretation trail attraction for visitors and the community to engage with.
Increase landscaping through the High Street through the introduction of street trees to connect Grant Park through the High Street to Castlehill and embed opportunities for food growing.
Improve public spaces to create opportunities for social interaction and enhance key approaches into the High Street through the lanes linking into car parks.
Develop a Shopfront Improvement Scheme to ensure that traditional shopfronts are retained and improved to strengthen and enhance the character of the historic High Street.
Promote sustainable travel and improve pedestrian experience.
Re-purpose vacant and derelict buildings to reduce the number of empty properties and increase number of people living in the town centre.
Contact Information
Moray Council Press Office