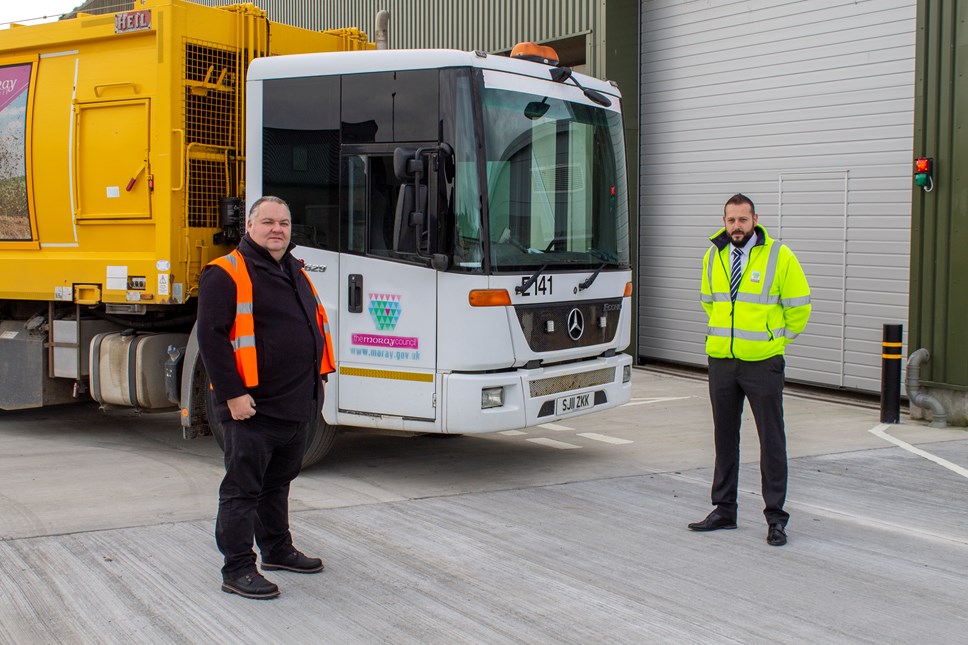 £2.9 million waste operations hub at Moycroft opens
A £2.9 million facility – which will process 100% of Moray residents' waste by 2023 – opened today in Elgin.
Moycroft waste handling and sorting facility is now the hub for all waste operations in Moray and will handle up to 60,000 tonnes of general waste and recycling every year. Its primary purpose is to increase waste handling capacity, in advance of the completion of the multi-million pound Energy from Waste facility – a joint project which will serve Moray, Aberdeen City and Aberdeenshire council areas and turn waste into energy in the form of heating and electricity.
The expanded 1,700 m2 Moycroft building will merge operations previously located at Waste Watchers in Lossiemouth and Brumley Brae in Elgin. Moving to the modernised facility will save annual rent costs from existing sites, increase capacity for waste handling, and provide improved office and rest facilities for Moray Council's waste staff. Improved processing facilities are also available on site for Moray Reach Out Recycling, a social enterprise which runs the council's sorting operation for recyclable materials.
Moray Council's Waste Manager, Mike Neary, said that the move was delayed due to the pandemic, but staff are now looking forward to settling in to the extended, purpose-built hub.
"This central facility will help us streamline our waste processing, in turn improving the service we offer our residents and trade customers.
"Importantly it futureproofs vital waste operations in Moray, so we can fully service our residents' excellent recycling efforts, and ensures our compliance with the upcoming legislation regarding sending waste to landfill."
Leader of Moray Council, and Chair of its Economic Growth, Housing and Environmental Sustainability Committee, Cllr Graham Leadbitter, said: "The re-opening of our newly-upgraded waste facility at Moycroft means that operations from three separate locations have now been brought together, which will make for a more efficient waste management service, as well as providing a long-term saving to the council.
"Waste management is constantly evolving with a massively-increased amount of recycling in recent years, placing Moray in the top three recycling authorities in Scotland. A landfill ban is due to come in over the coming years, as well as the opening of a new Energy from Waste facility in Aberdeen that will take non-recyclable waste from Moray, Aberdeenshire and Aberdeen City councils. This investment makes sure that our waste service has the right tools for the job as we go forward.
"The old Moycroft facility was really past its sell-by date and the facilities for our waste crews and those working on the site were pretty poor. It's important that we value our staff and provide facilities that are fit for purpose, as well as the core aim of upgrading the waste processing set-up, and I am pleased that the development of this upgraded facility has provided that opportunity."
Contact Information
Moray Council Press Office