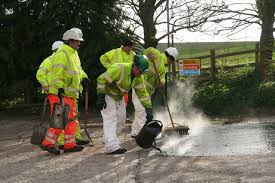 £8.5million for Moray's roads maintenance approved
Moray Council's Economic Growth, Housing and Environmental Sustainability Committee has agreed to a budget worth £8.5m for Moray's roads network in 2021/22 – a £3m increase from the previous year's budget.
Full carriageway resurfacing will providing longer-term benefits with an increased investment within the column replacement programme to allow acceleration of the work.
Largely due to interruptions to planned work in 2020/21 as a result of the covid-19 pandemic, the programme of resurfacing, drainage and street lighting works will be rolled over into this year.
Winter maintenance expenditure for last year was £2.25m with a particularly busy period in December, January and February with an almost daily gritting service throughout.
Cllr Graham Leadbitter, Chair of the Economic Growth, Housing and Environmental Sustainability Committee, said: "The Committee consensus is that spending on our roads network will need to be revisited but for now our hard working teams will continue to catch up with the programme of resurfacing and maintain our roads to the best of their ability.
"In the Council's recent budget, councillors agreed to carry forward a significant underspend that resulted from Covid restrictions and our Roads Maintenance Service will therefore be carrying out significantly more work than normal this year.
"Looking beyond that we will need to take stock of how that catch up work progresses through the year and what is needed for future years."
Contact Information
Moray Council Press Office