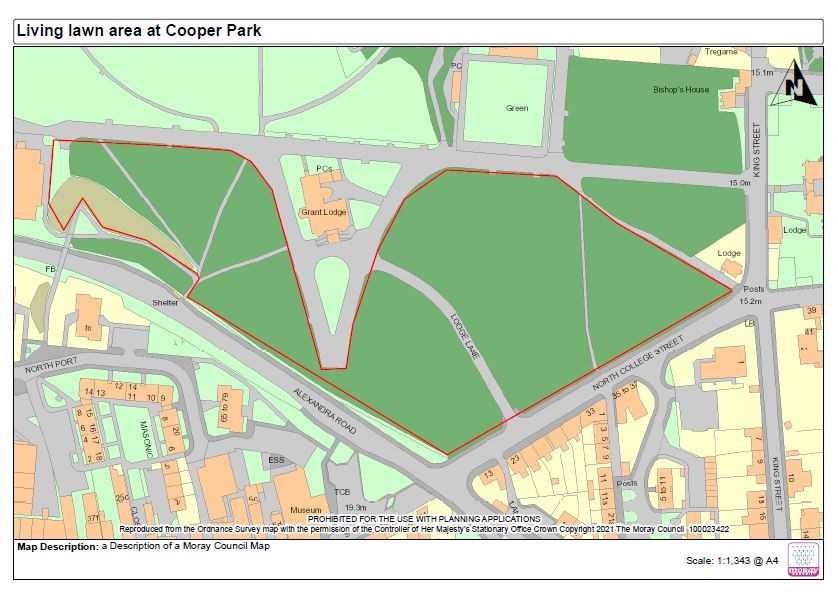 Living lawns and flowers wild for Moray's biodiversity
Living lawns and wildflower planting are to be trialled in Cooper Park in Elgin to increase biodiversity and improve natural habitats.
The living lawn concept, based on a trial at the Royal Botanic Garden in Edinburgh, allows grass to grow longer between cuts to promote a diversity of flowers. This encourages low growing flowering plants such as clovers, daisies and dandelions to thrive. Providing essential resources for pollinators like bees, moths, butterflies and beetles and structure for insects and other invertebrate to shelter.
Grass in the trial area will be cut every four to six weeks to a height of 150mm. The perimeter of the site and path edges will continue to receive regular grass cutting and have a shorter appearance – this video explains more with full details on Moray Council's website.
Over the next three years Moray Council also aims to create up to eight new wildflower plantings a year across the region and is asking communities to help identify suitable locations for these.
Open Spaces Manager, James Hunter, says the environmental challenges we face is encouraging Moray Council to broaden the way it manages open spaces.
"The introduction of more wildflowers in our landscape helps to improve the diversity of our natural environment, supporting our health and wellbeing, as we use and enjoy outdoor spaces more, and helps wildlife, which have declined in numbers in recent decades.
"Since the Council no longer maintains the traditionally more expensive landscape features in our open spaces like flowerbed displays or verges it's not anticipated that any savings in maintenance costs will be made through this initiative. Indeed, it's likely that sites nominated for consideration will result in a modest increase in costs. However, responding to the challenges our environment faces is of great benefit to us all."
Moray Council's Community Support Unit is inviting Community Councils, and other community groups, to consider their local environments and identify and nominate potential locations for consideration. Anyone interested in getting involved in maintaining the habitats should contact their local community council.
Contact Information
Moray Council Press Office