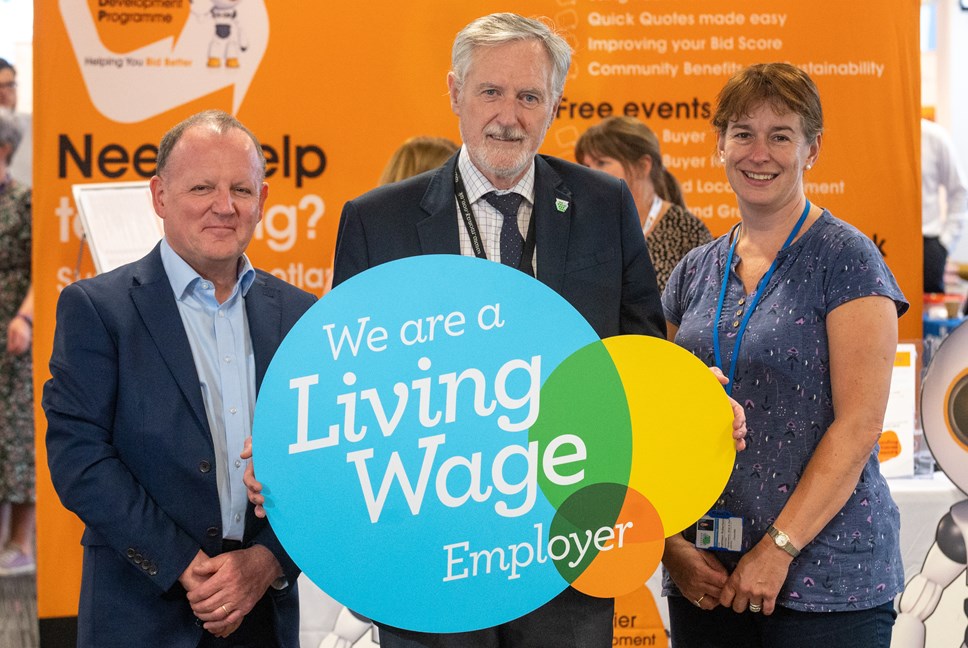 Living Wage accreditation for Moray Council
Moray Council has become accredited as a Living Wage employer.
The £9.90 Living Wage rate was announced on Monday 15 November 2021 as part of Living Wage Week. This rate is significantly higher than the government minimum for over 23s, which currently stands at £9.50 per hour.
Moray Council has paid above the Living Wage rate since 2012, and £10.04 per hour for the lowest pay point on its salary scale from April 2022. This accreditation is formal recognition for a range of commitments, including a pledge from suppliers – or agreed milestones – to pay Living Wage.
The real Living Wage is the only UK wage rate calculated according to the costs of living. Employers choose to pay the real Living Wage on a voluntary basis, recognising the value of their workers and ensuring that a hard day's work receives a fair day's pay.
Since 2011 the Living Wage movement has delivered a pay rise to over 55,000 people in Scotland and put over £310 million extra into the pockets of low paid Scottish workers.
Moray Council's Chief Executive, Roddy Burns, said: "As one of the largest employers in the area, it's right that we lead by example and recognise the hard work our thousands of colleagues do, day in and day out, to provide the best possible standard of service to our communities.
"I'm pleased to see this accreditation awarded which demonstrates our commitment to paying the Living Wage to our much-valued staff."
Leader of Moray Council, Cllr Kathleen Robertson, said: "Achieving accreditation is a significant milestone and we proudly join the other Scottish councils with this mark of recognition.
"We know times are particularly challenging for many residents, and as a Living Wage employer we are playing our part in supporting our employees and valuing the work they do."
Peter Kelly, Director of The Poverty Alliance said: "We all need an income that is enough to cover our needs and protect us from poverty, and it's only right that employers pay a wage that reflects the cost of living. Too many workers in Scotland are paid less than the real Living Wage and, at a time of rising costs, are struggling to stay afloat. The real Living Wage can offer protection from those rising costs."
"Congratulations to Moray Council on their Living Wage commitment, and I hope more organisations follow their lead by becoming Living Wage accredited."
Gail Irvine, Living Wage Scotland Manager said: "We're delighted that Moray Council has become an accredited Living Wage employer. They join a growing movement of over 2,700 employers in Scotland who together want to ensure workers have what they need to thrive.
Our Living Wage employer network includes lots of smaller employers as well as larger and iconic brands like SSE, abrdn, Barrs, Mackie's of Scotland, & D.C. Thomson. We hope to see many more employers following their example."
Picture courtesy of the Supplier Development Programme.
Contact Information
Moray Council Press Office