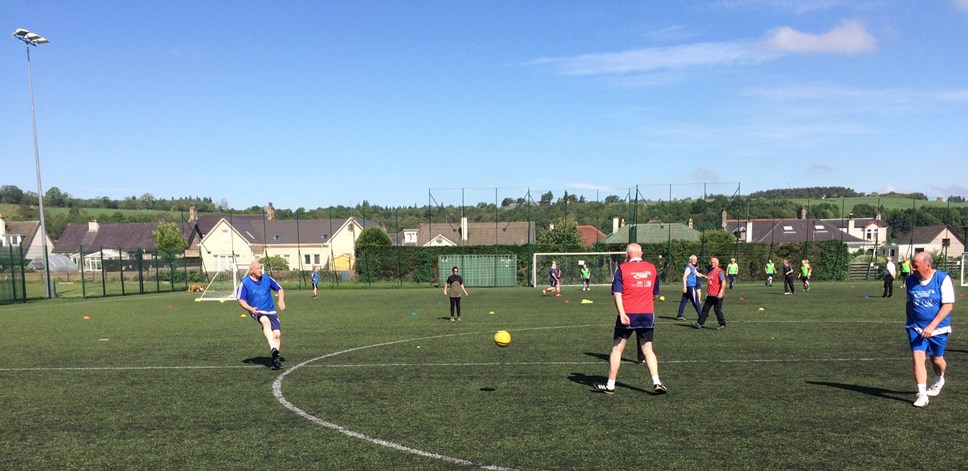 Locals invited to take part in free walking football sessions
MORAY residents are being invited to try walking football sessions for free between Monday 29 August and Friday 24 September 2022.
Moray Council has secured funding from the Scottish Football Association to re-launch and develop walking football sessions across the region. As well as making the sessions free for the four-week period from 29 August to 24 September, the funding will be used to cover coaching costs and purchase new equipment.
Walking football is a standard game of football where players walk instead of run. It's become increasingly popular since being introduced in Moray seven years ago and is designed to help people get fit and maintain an active lifestyle, regardless of their age and fitness level.
It also provides participants with the opportunity to meet new people, reduce isolation, and interact with individuals and small groups.
Moray Council's Sport and Culture Service Manager, Kim Slater, said: "We're delighted to be working with our partners at the Scottish Football Association to increase the numbers of adults taking part in physical activity.
"The walking football sessions are a safe option for adults to use our leisure facilities to help improve their wellbeing. The sessions also provide an option for individuals taking part in the recently launched Physical Activity for Health initiative.''
Weekly sessions are currently held on various days in Buckie, Elgin, Forres, Keith and Speyside. While sessions have traditionally been aimed at individuals over the age of 50, adults of any age and ability are welcome to join in on the fun.
Locations, dates and times:
Elgin Community Centre - Tuesdays from 9.30-11am
Speyside Community Centre - Fridays from 2-3pm
Buckie Leisure Centre - Fridays from 3pm-4pm
Forres House Community Centre - Fridays from 2-3.15pm
Keith Community Centre - Wednesdays from 1.10-2pm
To take part simply pop along to one of the sessions listed above. For further information, contact Moray Council's Principal Active Schools and Community Sport Officer, Roy McPherson, by emailing roy.mcpherson@moray.gov.uk.
Contact Information
Moray Council Press Office