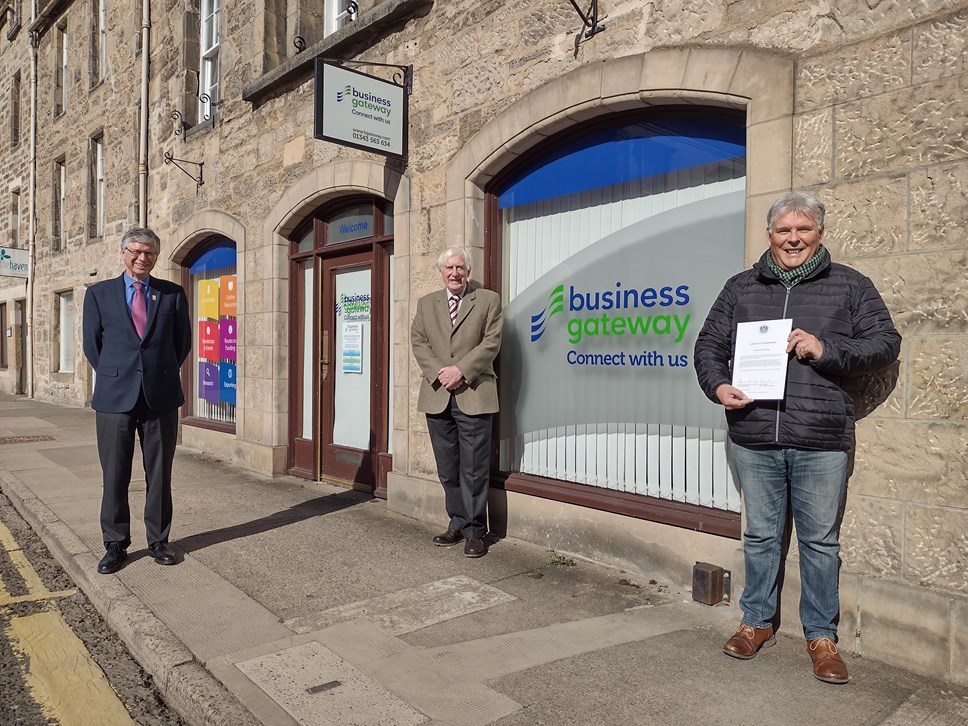 Lords-Lieutenant award 90 Letters of Commendation
A SECOND tranche of Commendations from the Lord-Lieutenant of Banffshire, Mr Andrew Simpson, and the Lord-Lieutenant of Moray, Major General Seymour Monro, have been awarded.
More than 90 Letters of Commendation were issued in October to various organisations and individuals, expressing thanks for everyone's extraordinary contributions to their communities during the pandemic. This second round sees a further 90 worthy recipients acknowledged.
Recipients range from some of the emergency services to organisations supporting businesses and jobs; from education staff to teachers; from Rotary clubs to supermarkets and shops; and to all the very many individuals who have gone above and beyond for others to support them through the crisis. No one on the first list was eligible this time round.
Andrew Simpson said: "It has been humbling to read the nomination citations. So many people have looked after others in their communities, and have helped by keeping their businesses going to provide food and other items for people.
"I particularly want to thank all the teachers and support staff who have done their best to encourage their pupils through home-schooling and now back in the classroom. It has been a most testing time unlike anything we have experienced before.
"Others gave outstanding support during the recent gas incidents in Keith and the surrounding area."
Seymour Monro added: "I'm grateful to those who had raised funds so that essential food, clothing and finance were available to support those in special need. Andrew and I - as members of the Lieutenancies' Moray Emergency Relief Fund team - are proud of the generosity of the people and businesses in Moray.
"I would also like to thank everyone involved in the delivery of the vaccines: the doctors, nurses, administrative staff, members of the Armed Forces and the many volunteer stewards."
A recipient, Craig Robertson on behalf of Business Gateway, said receiving the commendation "is a real boost".
"This last year has been a rollercoaster for businesses, and we've been on that journey with them. They've shown a huge amount of resilience and we're proud to have played a role in supporting them."
Both Lord–Lieutenants agreed that the ongoing nature of the pandemic would mean that there would be another tranche of letters in the middle of the year. Whilst acknowledging that there are 'unsung heroes', they congratulated all of those receiving Letters of Commendation for this well-deserved honour.
Recipients listed below and also available on Moray and Banff's respective Lieutenancy websites.
Letters of Commendation awarded to:
David Barrie Wallace MBE
Claire Herbert
Margaret Cormack
Fochabers Community Sing Virtual Choir
Kaye MacLeod, Asda Elgin Community Champion
Lossiemouth Community Development Trust
Moray Firth Credit Union
Iain Rennie
Lossie Restaurant
Janice Flett
Louise Kelman
The Captain's Table
Elgin City Football Club
Findhorn Bay Arts
William Robertson CBE DL
Forres Mechanics Football Club
Kathleen Robertson
1st Forres Scout Group
Fiona Thomson
Moray Inshore Rescue Organisation
Flying Mirrors Photography and Video
Claire Doughty Publicity
Team of Volunteers at Dr Gray's Hospital
Elgin Rotary Club
Forres Rotary Club
Positive Action Group
Sarah Hunt Pilates
McKenzies Newsagents
Alan and Janet Grant
Asda, Elgin
Lidl, Elgin
Tesco, Elgin
Aldi, Elgin
Marks and Spencer Simply Food, Elgin
Tesco, Forres
Robert and Mhorag Martin
James Baird and Janice Dougan
Speyside Community Council
Findochty Keystore
Lidl, Buckie
Co-op, Buckie
Buckie and District Community Council
Tesco, Buckie
Spar, Keith
Clarks Pharmacy
Keith Rotary Club
The Gather'n Café
CU There Taxis
Co-op, Aberlour
Gordon and June Whiteford
Kirsty Mitchell
Regency Garage
Moravian Motors
Dufftown and District Branch of the Royal British Legion
Co-op, Dufftown
June Donald
Karen and Grahame Colliver
Sonya Sinclair
Aberlour and District Rotary Club
Allan Cowie
Mark Hancox and Andy Daggart, William Grant & Sons - Glenfiddich Distillery
Geraldine McKillop
Bruce and Isobel Ross
Blair Moir
Bairds Pharmacy
Linda Gorn, Agnes Peters, Nora McPherson and Linda Gillies - Keith Kilt and Textile Centre
Discretionary Awards Team, Moray Council
Education Technologists Team
Youth Point Moray
Circles Advocacy Service
Moray Citizens Advice Bureau
Scottish Ambulance Service
Scottish Fire and Rescue Service
Maritime & Coastguard Agency
Quarriers
Lt Col Grenville Johnston CVO OBE TD CA
Kelly McLaren
Scottish Gas
SACRO
Moray Council Catering Team
Yvonne and Callum Squair
Moray Council Criminal Justice Team
Derek Ramsay
Emi Andrews
Aonghus Archibald
Moray Council's Head of Education and Quality Improvement Managers
Business Gateway Moray
Red Cross Society
3rd Battalion The Rifles
Moray School Staff
Contact Information
Moray Council Press Office