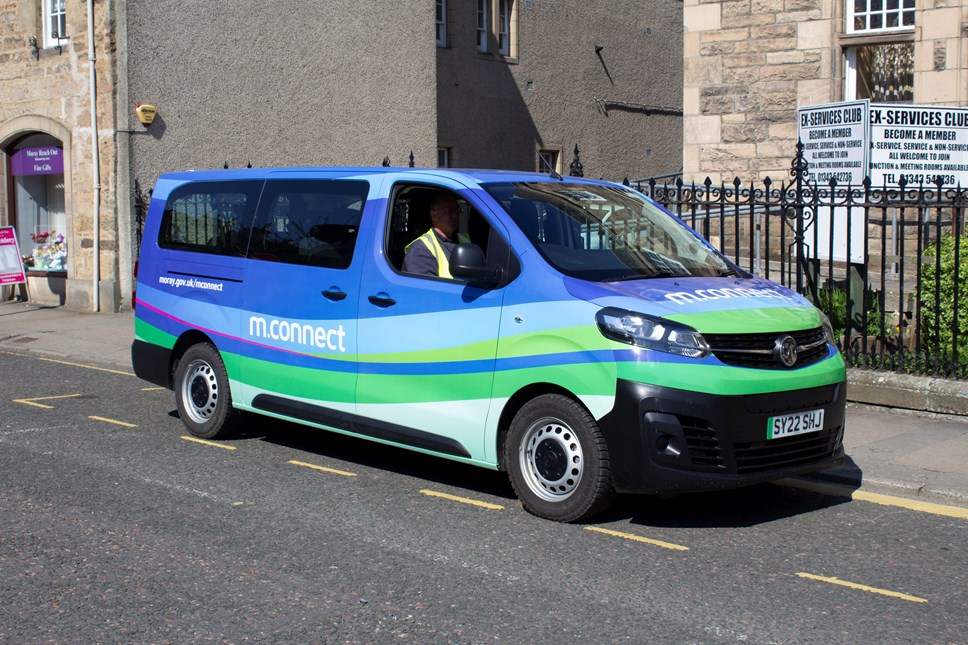 m.connect: on-demand bus service launches in Moray
The popular Dial M bus service is being enhanced and rebranded as m.connect – an on-demand bus service covering the whole of Moray.
From Tuesday 2 May passengers in Moray will be able to book using a brand new, easy-to-use app. The app makes the service even more flexible than ever, allowing passengers to book up to two weeks in advance and up to one hour before travel. Those who prefer to use the booking line can still book this way.
This change to m.connect is the first stage of the £4.3m Bus Revolution project, which is being funded through £4m of Scottish Government funding and £300,000 from Moray Council. Bus Revolution is part of the Moray Growth Deal and is the second Growth Deal project to go into delivery, following the Rural Centre of Excellence for Digital Health and Care. The Moray Growth Deal will see over £100m of investment in the local economy with funding from the Scottish and UK Governments, as well as public and private sector contributions.
Key aims of the m.connect service are to increase the numbers of people using public transport, reduce the number of people facing transport barriers to employment, education or recreation, and reduce the environmental impact of transport in the area.
Building on Moray Council's award-winning on-demand bus service, m.connect will provide public transport which meets the needs of the region's largely rural economy and help move the fleet to low-carbon vehicles.
The app, which is available to download for free from apple and google play stores from 2 May, allows users to create and manage journeys how they want to. Bus ticket features, vehicle tracking and notification options are all part of the app function.
Six new electric vehicles are being added to the m.connect fleet, so passengers can travel knowing they're contributing to reducing their carbon footprint. On-board WiFi also means travel time can be productive.
Options to pay by credit/debit card (contactless), National (Scotland) Entitlement Cards and with cash are available, while the operating zones and fare structure have been simplified. There's even a £9 all day travel option.
Group bookings will be available from October 2023 with the option to repeat a favourite journey without going through the full booking process each time.
More details including fare structure, route map and booking details can be found on moray.gov.uk/mconnect.
Speaking ahead of the service launching, Chair of Moray Council's Economic Development and Infrastructure Services Committee, Cllr Marc Macrae, said: "Many of us will have spotted the m.connect buses dotting around Moray in recent weeks as we prepared to see the launch of the full service, so it's great to have the project live now. Transport is an issue we often hear is a barrier for people to take part in activities, commute to work and get around the region. This on-demand service, as part of the Growth Deal's Bus Revolution, goes some way to remove these concerns and get folk moving around Moray with much more ease and a real potential to boost the local economy.
"The simplicity of the app, booking process and low-cost fare structure is a real boost to the service and I look forward to seeing many more people opting to take the bus as we all become more mindful of our carbon footprint."
Scottish Government Innovation Minister, Richard Lochhead MSP, said: "Reducing emissions is crucial if we are to reach net zero by 2045 so I applaud the introduction of electric buses powered from renewable sources in Moray.
"Scottish Government support through the Moray Growth Deal is contributing to creating a more sustainable and prosperous local economy where transport in rural areas is more easily accessible."
An official launch of the service will take place in early summer, a media call will be issued with more information once confirmed.
Contact Information
Moray Council Press Office