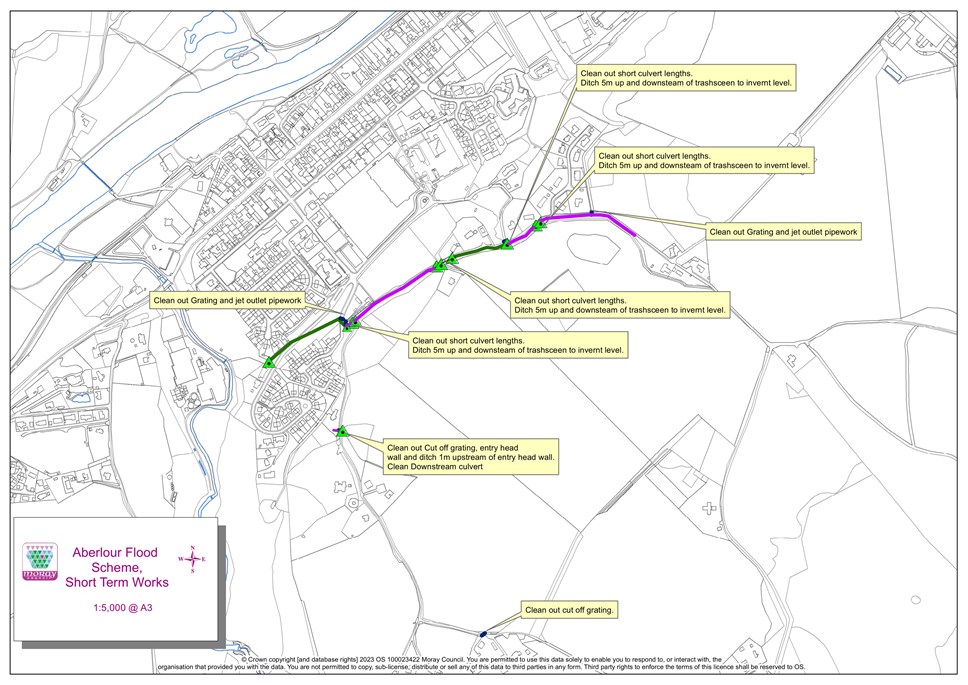 Moray Council announces Aberlour flood protection improvements
Following flooding in Aberlour on 10 May, Moray Council is to undertake short-term improvement works while working on a long-term flood management plan.
Flooding in May was influenced by a number of drainage systems, including Moray Council's flood scheme. In response, council officers investigated and identified maintenance work that will improve flow and make sure the scheme is fully operational.
Plans include cleaning out grating, pipes and culverts and improving the ditches along Allachie Drive. This work is due to start week beginning 26 June.
Before the flooding last month an assessment of the flood scheme in Aberlour was already underway, these findings will inform an adaptation plan - a long-term flood management plan for the whole of Moray, including Aberlour.
Moray Council is also planning a multi-agency event where residents can attend and discuss any issues they have with regard to flood risk and get information on how they can improve the resilience of their homes. Further details of the event, due to take place in the summer, will be announced when arrangements have been finalised.
Chair of Moray Council's Economic Development and Infrastructure Services Committee, Cllr Marc Macrae, said: "Moray knows only too well the devastating impact flooding can have on our homes and businesses so I'm pleased officers have identified a short-term solution to Aberlour residents' concerns.
"I'm reassured that a long-term plan is being assessed and would encourage anyone in Aberlour with concerns about flooding to attend the event in summer once details are shared."
Contact Information
Moray Council Press Office