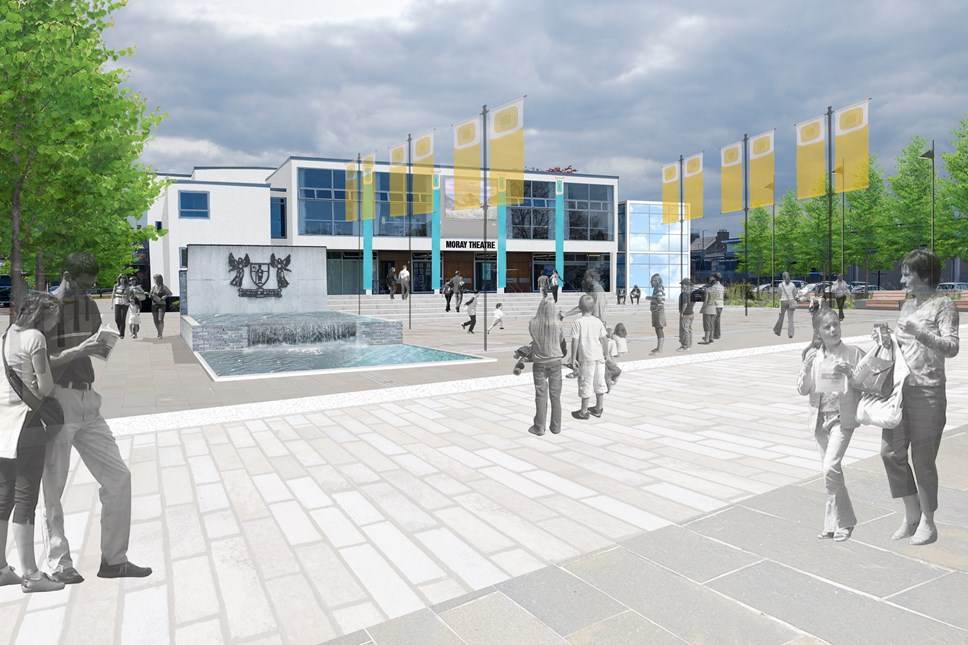 Moray Council approve multi-million pound funding for Cultural Quarter
ONE of the flagship projects of Moray's multi-million pound Growth Deal took a step closer to becoming reality today as councillors agreed to fund £3.9 million towards its creation.
Plans for a Cultural Quarter, which aims to create a vibrant space in the heart of Elgin that will support economic growth and cultural expansion across Moray were welcomed, and today's agreement of council funding unlocks the next steps in the project, ensuring it's 'shovel-ready' and work on-site can commence by 2024 – or earlier if possible.
Outline business cases for the development of the £31 million Cultural Quarter have been submitted to the Scottish and UK governments and, subject to final agreement of these plans, both have pledged millions in support – up to £12.7 million and £3.5 million respectively. Additional funding will come from HIE and private investment.
Under these plans for the Cultural Quarter one of Elgin's most iconic buildings, the currently vacant, 18th Century B-listed Grant Lodge, will be transformed to create a £9 million heritage attraction, focussing on Moray's globally-renowned food, drink and textiles offering. It could also provide the opportunity to signpost visitors to the region's many spectacular tourist attractions, including distillery visitor centres, golf courses, forestry trails and coastal activities, to encourage visitors to stay longer and enjoy more of Moray.
Elgin Town Hall will see a £9 million refurb with an extension to house a multi-purpose theatre and performance space, small cinema, rehearsal rooms, gallery, and flexible meeting room and events space. It will contribute to the development of an evening economy, reducing the need for residents and visitors to travel to Inverness and Aberdeen for arts and culture, and making them more accessible.
Funded separately through £9 million private investment, a 60-100 bedroomed premium hotel will be situated within the Quarter, increasing the number of beds available to service leisure guests, coach tour markets and business needs. Despite the impact of the pandemic on the hospitality sector, interest in this opportunity is strong.
Leader of Moray Council, Cllr Graham Leadbitter, said: "The Cultural Quarter proposals aims to rejuvenate key buildings and venues that are an integral part of Moray's cultural sector, alongside plans for a hotel and a much improved use of a very prominent public space.
"As an example, Elgin Town Hall is used by individuals and groups from all over Moray and beyond, supporting theatre productions and bringing in acts that are attracted to Moray by a larger capacity venue. There is a real opportunity to maximise the use of that space for many years to come and provide value to even more people in the region."
The Scottish Government's Cabinet Secretary for Transport, Infrastructure and Connectivity Michael Matheson said: "This announcement will help partners realise their vision for a Cultural Quarter in Elgin. We are continuing to work closely with all deal partners to reach agreement on a full deal which will benefit communities and businesses across Moray.
"We are investing over £1.9 billion, which includes additional 'side packages' alongside the main Deals, to deliver sustainable, inclusive growth across Scotland."
UK Government Minister Iain Stewart said: "I'm delighted that the Cultural Quarter has secured financial backing from Moray Council.
"The £100 million Moray Growth Deal will be essential to the region's economic recovery from coronavirus and I am sure we will see further progress in the coming months.
"Across Scotland the UK Government is investing more than £1.5 billion into deals to secure our future prosperity."
Stuart Black, HIE area manager in Moray, said: "The Elgin Cultural Quarter will breathe new life into two much-loved venues in Moray and give the area's rich cultural offering a new platform. It will also support both tourism and creative industries, important sectors in Moray that have been hit particularly hard by the pandemic.
"We are very pleased to be able to offer our support. The funding for the design works should enable the projects to get started early in the Moray Growth Deal and aid economic recovery."
Contact Information
Moray Council Press Office