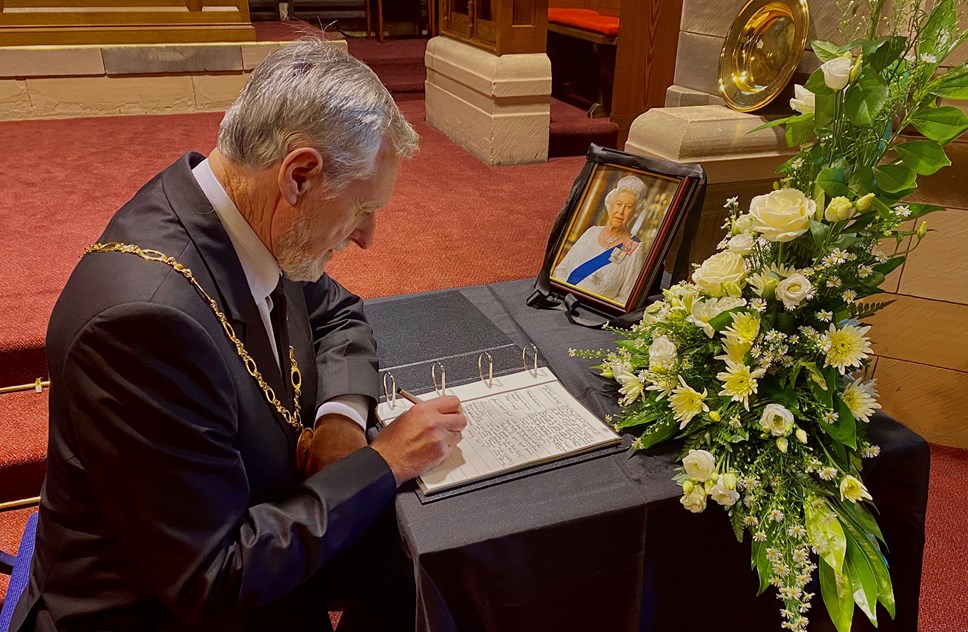 Moray Council hears motion of condolence for Her Majesty The Queen
Moray Council held a special meeting today (Wednesday 14 September 2022) to hear a motion of condolence for Her Majesty The Queen.
During the meeting Civic Leader, Cllr John Cowe, was asked to write to His Majesty King Charles III with the Council's condolences.
Speaking in the council chambers, Cllr Cowe, said: "Her Majesty Queen Elizabeth II as more than a Monarch – she defined an era. In a world of constant change, she was the constant presence, and a source of comfort and pride to generations, for generations.
"Queen Elizabeth was a stateswoman of unparalleled dignity in an ever-changing world and the sorrow we feel now reminds us of her words; 'Grief is the price we pay for love'.
"Her Majesty was no stranger to Moray and I pledge to write to King Charles III on behalf of the people of Moray to convey the sincere condolences of us all to him and the family, and wish them comfort in the days and months ahead with their memories of a life well spent."
Council Leader, Cllr Kathleen Robertson, led the tributes, saying: "Her Majesty Queen Elizabeth II has been the paragon of public service ever since her commitment to the British People at the age of 21. She has been unwavering in her dedication to the United Kingdom and the Commonwealth.
"Her life has been an example to all of us in this chamber who have committed to public service by serving the people of Moray with duty, integrity, selflessness, objectivity, accountability and stewardship, openness, honesty, leadership and respect.
"This loss, of course, we experience as our Queen but we shouldn't forget that she was a mother, grandmother and great-grandmother to our Royal Family. Many of us have lost loved ones and know grief. We, however, have time to come to terms with it privately. We must recognise the burden of grief on our Royal Family and having to play this out so publicly takes enormous strength."
Text of the motion:
Motion of Condolence - Her Majesty The Queen
That the Council expresses its deepest regret and grief at the death of Her Majesty The Queen; conveys its sincere condolences to His Majesty The King and other members of the Royal Family in their bereavement; affirms the great affection and esteem in which Her Majesty was held, and expresses gratitude for her life of exceptional public service and her long and close association with Moray and the people of Moray, and asks the Civic Leader to write to His Majesty King Charles III with the Council's Condolences.
Contact Information
Moray Council Press Office