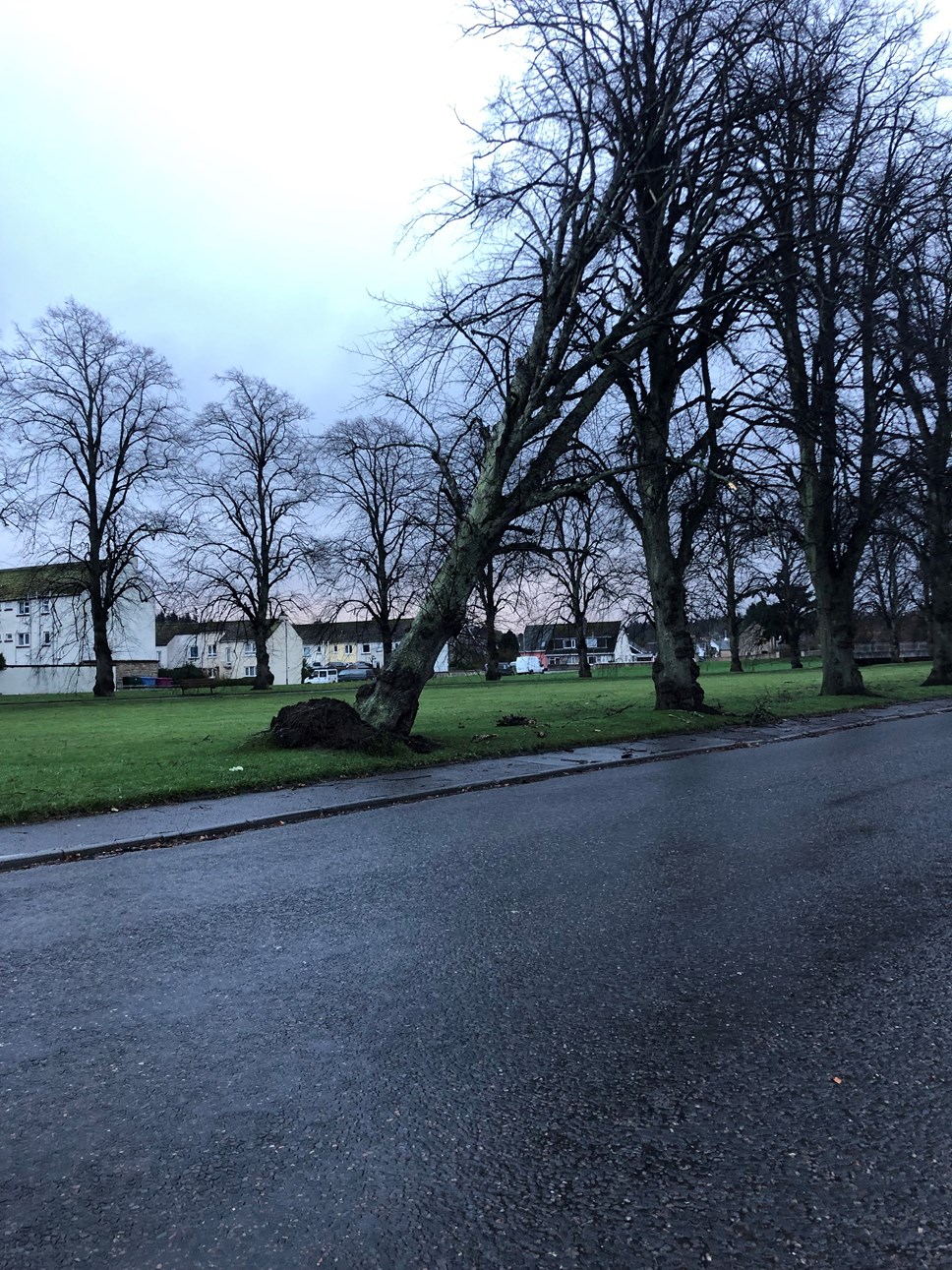 Moray Council praises community response to Storm Arwen
Moray Council's emergency response co-ordinator has praised local communities for their response to Storm Arwen's rampage through the region.
Working alongside local resilience partners including Police Scotland, Scottish Fire and Rescue Service, SSEN, Scottish Water, and SEPA, Moray Council's emergency response deployed from early Friday morning (26 November), continued through the weekend and into Monday (29 November).
Priority was given to ensuring vulnerable residents were safe in their homes, or had alternative accommodation if required, with Moray Council and Health & Social Care Moray working to co-ordinate the response to power outages, water supply issues and the risk of flooding.
Moray Council's out of hours emergency phone line took 399 calls throughout the weekend (from 5pm Friday 26 November until Monday morning).
The roads team fielded 20 requests, logged 25 separate incidents, and there are still four roads affected by debris. The up-to-date status of these closures can be found online.
The 18 staff-strong housing team dealt with 164 calls during the same period ranging from emergency repairs to water distribution in Grange, Archiestown, Aberlour and Dufftown.
Throughout the stormy weather, and despite access issues, the council's winter maintenance team continued to grit priority one and two routes to keep access open for all services to continue their efforts.
Moray Council's Emergency Response Co-ordinator on duty over the weekend, Edward Thomas, paid tribute to those efforts.
"This is the worst weather event we've seen for many years and the Herculean effort made by everyone in keeping safe, maintaining access routes and offering assistance has been astounding.
"Council and healthcare staff focused on the care of people and maintaining access routes throughout the weekend in often horrendous conditions, and we can't thank them enough.
"The communities who opened their doors, fridges and hearts to helping others get through a difficult period without power or water, for some, also deserve our gratitude. We saw offers of accommodation and community buildings put to good use as part of the relief effort, actions like these make Moray special.
"The clear-up operation is ongoing and we continue to offer assistance, particularly emergency accommodation, to those still without power. We'd like to reassure all residents that we're working hard with our partners to get everything back to good working order.
"Our housing and open spaces teams are out repairing damage and we ask for patience as they make their way round all the incidents that have been reported to us. The clean-up response is likely to go on for several more days.
"If anyone sees damaged, dangerous or fallen trees that pose a risk to public health please do report this via landsandparks@moray.gov.uk or out of hours by phoning 03457 565 656."
Contact Information
Moray Council Press Office