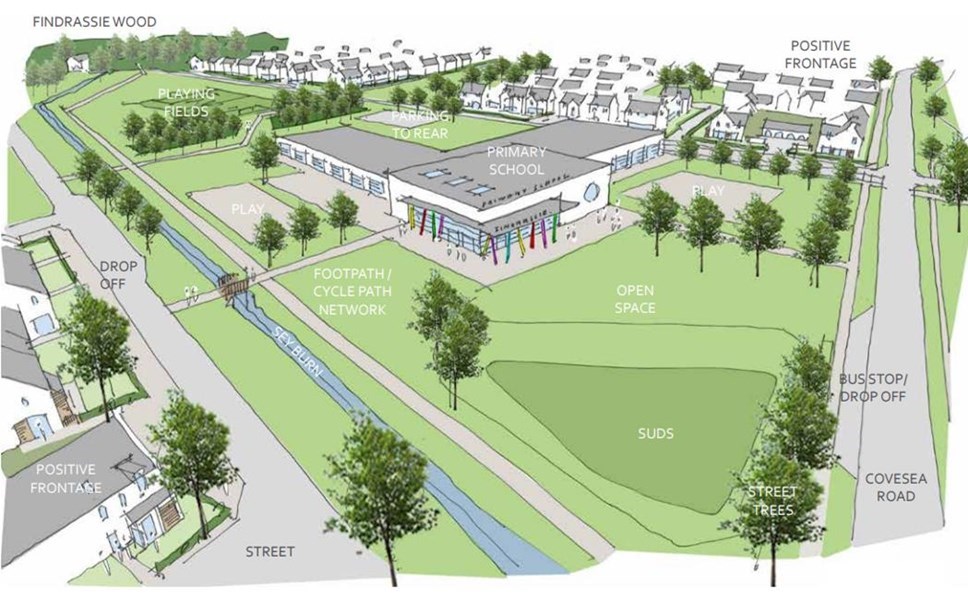 Moray Council seeks considerations for the community use of Findrassie Primary School
RESIDENTS are being asked their thoughts on how a new primary school planned for Findrassie could be used by the local community.
Primary school capacity is urgently needed to meet anticipated demand for places, and Findrassie has been prioritised due to the immediate demographic changes within the area as well as the forecasted growth of Elgin.
In December 2020 Moray Council welcomed the announcement of Scottish Government funding for the creation of the new school at Findrassie, a planned 450-pupil school with Additional Support Needs (ASN) provision and a nursery for 45 children.
Engagement events are being held later this month to offer the opportunity for residents to share their views on how the building could be used for wider community purposes. Sessions will take place at Elgin Town Hall on Tuesday 21 September from 2pm to 4pm, and again from 7pm to 9pm. A drop-in session has also been scheduled at Elgin Town Hall for Sunday 26 September between 11am and 3pm.
All of the sessions will be coordinated in line with current Scottish Government Covid-19 guidance and participants will be required to wear a face covering, adhere to the physical distancing guidelines and provide details for contact tracing purposes.
The new primary school build comes as part of Moray's £300m Learning Estate Strategy which was approved by councillors last year, and provides a platform for investment in the learning estate across Moray.
Convener of Moray Council, Cllr Shona Morrison, said: "We know the learning estate is a hugely important asset, and it should provide an inspiring environment that is fit for purpose, well-maintained and equipped for modern standards of teaching for years to come.
"We're committed to creating learning environments that serve the wider community and look forward to speaking with current, future and potential members of the Findrassie community to hear from them what's important to them so we can create a truly community-centred school."
More information and the Moray Learning Estate Strategy document can be found online: http://www.moray.gov.uk/moray_standard/page_138258.html
Contact Information
Moray Council Press Office