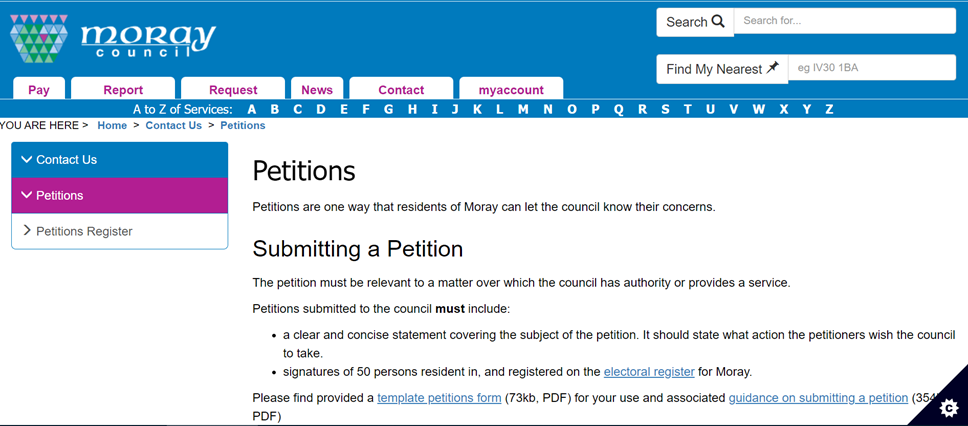 Moray Council starts accepting e-petitions
Moray Council has updated its petition procedures to include the submission of e-petitions.
E-petitions can be submitted through the current system by completing an online form that will be available on the Moray Council website.
Once submitted, petitions follow the same verification process as paper petitions. If it passes the verification process, the petitioner will receive an email including a link to the petition, which can be shared to collect electronic signatures.
The full, updated petitions procedure can be found online with the full e-petition process also available online.
The criteria for submitting a petition, such as the requirement for those submitting and signing a petition to be on the electoral register and the need for a minimum of 50 signatories, remains in place. However, where children and young people are submitting petitions they're able to have their submission verified by an authorising adult instead of requiring the minimum signatories.
Moray Council Leader, Cllr Kathleen Robertson, said: "The Council's petitions process was created as a way for community groups and organisations to express their views and engage with the Council. This has worked well to date, but we recognise the need to modernise by providing more opportunities for residents to engage with us.
"I'm pleased to also see work being undertaken to encourage children and young people to engage with the council through the various existing mechanisms open to them, including committee representatives, the youth work team, and Members of the Scottish Youth Parliament."
Contact Information
Moray Council Press Office