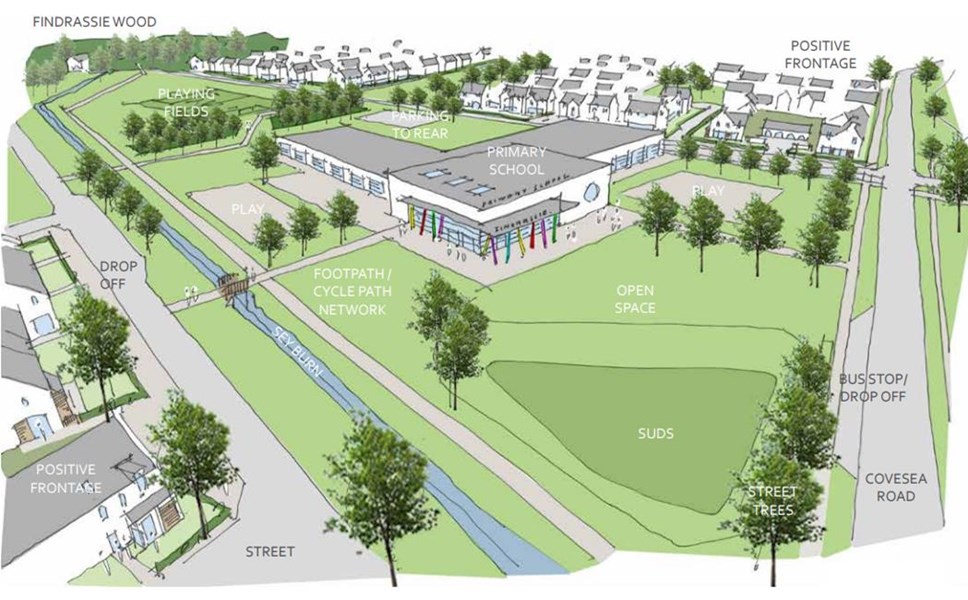 Moray Council welcomes Scottish Government funding for creation of Findrassie Primary School
MORAY Council has welcomed the announcement of Scottish Government funding for the creation of Findrassie Primary School.
The Scottish Government confirmed today (Friday 18 December) that, alongside council investment, they will jointly fund the £17 million new school in Elgin, which is expected to be built by 2024. It comes after Moray Council agreed in October to submit a request to the Scottish Government's Learning Estate Improvement Plan for funding.
Primary school capacity is urgently required to meet anticipated demand for places; Bishopmill Primary is expected to be at 100% capacity by August 2021, Greenwards Primary by August 2022, and Seafield Primary by August 2025. Findrassie has been prioritised due to the immediate demographic changes within the area, and forecasted growth of Elgin.
Once completed, the school would immediately be able to accommodate up to 450 primary pupils in a high-quality, sustainable primary campus, including nursery and ASN provision – and provide the catalyst for improvement across the learning estate in Elgin, which includes three 'C - poor' condition primary schools.
Reflecting the recently-agreed Learning Estate Strategy, the fully digitally-enabled new school would meet the target A for condition and suitability, with a lifetime maintenance plan to make sure the building meets the required B condition for suitability and condition over a period of at least 25 years. It will meet the principles agreed by parent councils through engagement, including the desire to ensure inclusive, accessible facilities to support the wellbeing of pupils and staff, buildings that are managed in the best way possible, alongside equipping our schools with the appropriate digital technology.
Chair of Moray Council's Children and Young People's Services Committee, Cllr Sonya Warren, said the new school will be at the heart of the Findrassie community.
"The Scottish Government's commitment to funding Findrassie Primary is very welcome; it will accelerate the building of an urgently-needed school – and the first to be built reflecting the aspirations of parents in our new Learning Estate Strategy.
"As part of the Findrassie Masterplan we anticipate the creation of a thriving community, with sport, leisure and community facilities, a local hub, employment opportunities and residential and commercial development. Findrassie Primary will be at the heart, providing an inspirational learning experience for thousands of pupils over its lifetime."
Contact Information
Moray Council Press Office