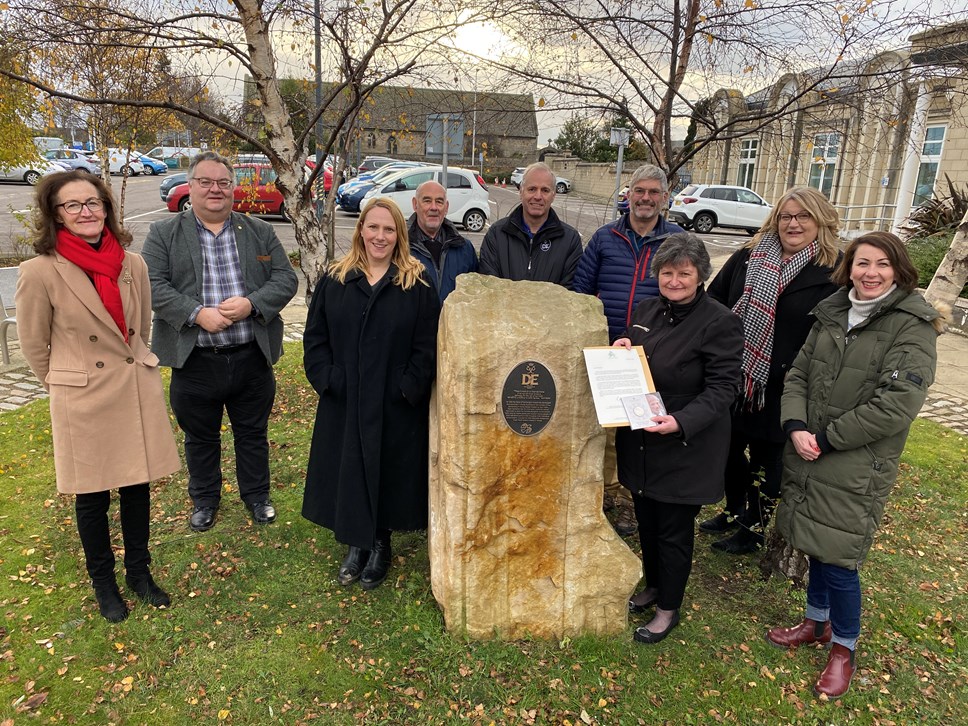 Moray Council's DofE Manager receives Royal recognition
Karen Delaney is one of a small group of people worldwide to be congratulated for their outstanding support for young people through The Duke of Edinburgh's Award.
To mark International Volunteer Day on Sunday 5 December, Karen Delaney, a Strategic Partnership & Policy Officer with Moray Council, has received Royal recognition for her exceptional dedication to supporting young people to do their Duke of Edinburgh's Award (DofE).
Karen supported DofE for 37 years both in her role within Moray Council but also as a volunteer. Karen developed and supported the Moray Local Awards Commitee, now Moray DofE Committee, was integral in developing the volunteer support programme across Moray, worked with young people to celebrate the Diamond Anniversary of the DofE with the Stones Project and latterly is working on the DofE Legacy project.
Karen's support of the DofE means young people have the chance to take on challenges, discover new skills and passions and develop their confidence, resilience, and self-belief.
Karen is one of a small group of volunteers to receive a personal letter of commendation from HRH The Earl of Wessex – a DofE Trustee – and a special commemorative coin marking the life and legacy of HRH The Duke of Edinburgh, the DofE's patron. The coins have been donated by The Royal Mint.
The 50 coin recipients, including Karen, were selected to reflect some of the different roles, successes and activities on behalf of more than 45,000 people delivering DofE across the UK. Many have given decades to supporting young people, while others have gone above and beyond to make sure young people can continue their DofE despite personal challenges or the effects of the pandemic. Karen is one of only three recipients in Scotland and is donating the coin for display as part of her legacy project work.
On receiving the recognition, Karen said: "I'm thrilled to receive this personal honour and want to share it with inspirational DofE staff and volunteers who I've been lucky enough to work and volunteer with over many years in Highland, Perth and Kinross and Moray. It's fantastic that a coin is coming home to Moray where DofE started. The coin will be available for everyone to see in the DofE corner at the Fochabers Folk Museum and Heritage Centre in the new season."
Highlighting the achievement Moray Council Convener, Cllr Shona Morrison, added: "Karen's lengthy dedication to giving young people in Moray opportunities and experiences that will stay with them throughout their lives deserves this timely recognition. We're fortunate to have staff like Karen giving their all to a role focussed on improving the lives of young people in Moray but for her to volunteer to continue this outside of work shows her strength of character. We're extremely grateful for all her efforts and I hope, through this national recognition, she appreciates how inspirational she is too."
The DofE's CEO, Ruth Marvel, said: "If young people are the heart of our organisation, volunteers are the lungs, breathing life into our programmes, changing the lives of young people so that they have the confidence and resilience to deal with whatever life might have in store.
"At a time when so many young people are facing unprecedented challenges, DofE volunteers are instrumental in helping them to regain a sense of purpose, possibility and control over their futures. Thank you to everyone in the DofE volunteer family who has helped support so many young people through the most difficult of times."
Contact Information
Moray Council Press Office