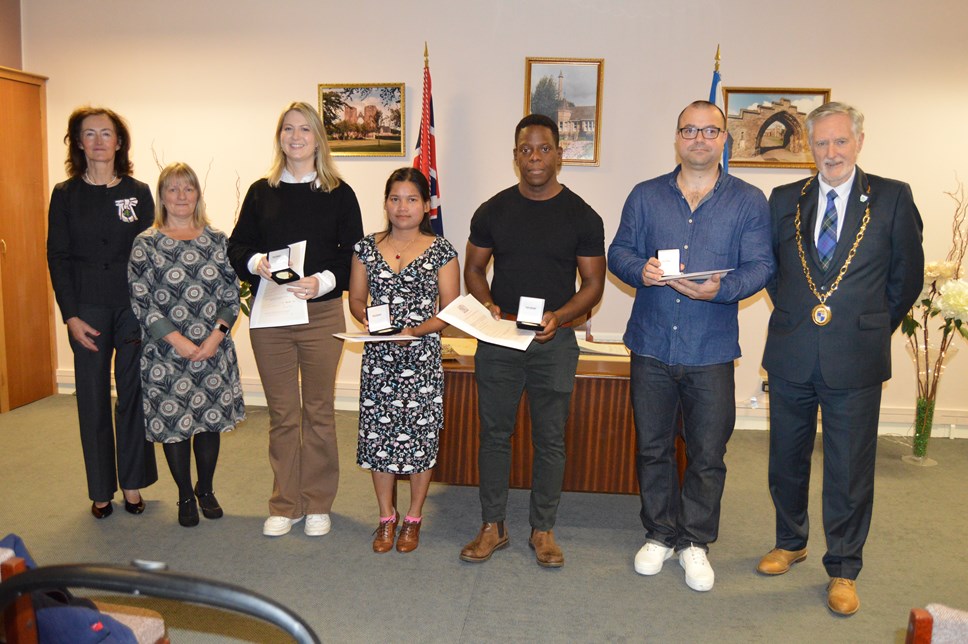 Moray hosts its first naturalisation ceremony to give allegiance to King Charles III
Moray's first newly naturalised citizens to give allegiance to King Charles III have received their citizenship certificates today (Monday 26 September 2022).
Taking part in their Citizenship Ceremony at Elgin Registration Office were Mao Seb, originally from Cambodia, now living in Fochabers; Vincent Daniels, originally from Jamaica, now living in Elgin; Bonnie Wielewski, originally from the USA, now living in Buckie; and Emil Kajsik, originally from Slovakia, now living in Lossiemouth.
The ceremony, conducted by the Senior Registrar for Moray, Liz Lambie, was also attended by Moray Council's Civic Leader, Cllr John Cowe and Vice Lord-Lieutenant of Moray, Nancy Robson OBE.
Following the application process via the Home Office, Moray Council issues new citizens with their Certificate of Naturalisation after they have undertaken an Oath or Affirmation to the current monarch. Moray residents also receive a small medallion to commemorate the occasion.
Since local authorities took on the role of providing Certificates of Naturalisation in 2014, Moray has welcomed 220 new citizens from all corners of the globe. Today's participants were delighted to celebrate with their friends and a families.
Speaking at the ceremony, Cllr John Cowe, said: "The United Kingdom prides itself on being a multi-national nation and I'm delighted Vincent, Emil, Mao and Bonnie have chosen to make Moray their home. It's a phenomenal place to live, work and play so we welcome them and their contributions to our communities."
Vice Lord-Lieutenant, Mrs Nancy Robson, added: "Today I was very honoured to be presenting our newest citizens with their certificates, a proud and happy day for them and their families. To welcome everyone on behalf of King Charles was a special occasion, may I again congratulate them all."
Contact Information
Moray Council Press Office