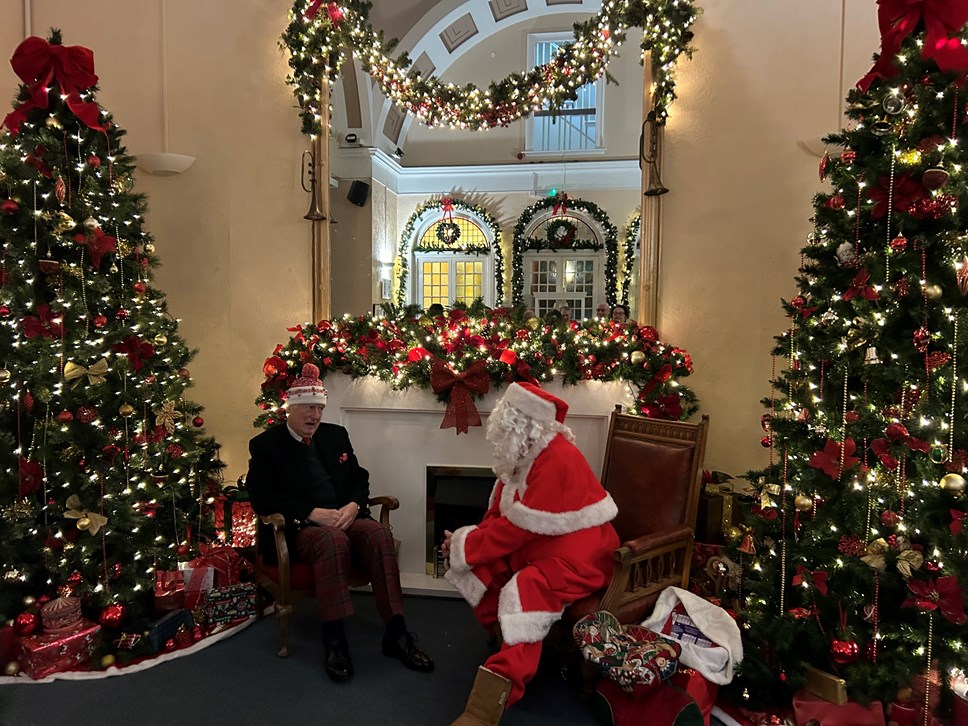 Moray Lord – Lieutenant's Christmas Message 2022
What a year! There has been something of a return to a 'new normal' after the lockdowns, although many businesses and people are experiencing difficulties and many are facing tough times ahead.
We have taken part in events for Her late Majesty's Platinum Jubilee. Communities and schools planted saplings for The Queen's Green Canopy; many lit beacons and bonfires, played the pipes and drums and sang in choirs; and big lunches and teas were enjoyed all over Moray. Our special project - The Moray Badge Platinum Jubilee - saw 50 schools and 5,500 pupils engage in a variety of challenges. I am glad to say that it was such success that The Moray Badge will continue next year.
Complementing these activities, we were delighted to welcome back The Princess Royal and also The Earl and Countess of Wessex and Forfar who presented Moray Badges, and The Queen's Award for Voluntary Service to The Duke of Edinburgh's Award Team, the Gordonstoun Fire Service and Moray Food Plus.
We were all sad and shocked when The Queen died, and we took part in the signing of Books of Condolence and in Services in Moray, Edinburgh and London. Her late Majesty loved coming to Moray and we anticipate welcoming King Charles in due course.
A number of people have been recognised with national honours this year and eight people from voluntary organisations in Moray are attending The Princess of Wales' Carol Service in Westminster Abbey. 39 Engineer Regiment were awarded The Firmin Sword of Peace, whilst RAF Lossiemouth have been on constant operational patrols above the UK and Europe. We are proud of them.
Our emergency services, especially our health and care services, are under continuous pressures and we thank and praise them all.
Moray has helped to resettle just over 100 Ukrainian refugees and we look forward to offering further support and to giving out Christmas presents to the children.
The economic and energy situations will continue to make life challenging for everyone this winter. There has been an increase in various benefits and grants which will go some way to help. But there will be many who require additional assistance.
Over the past few years, it has been uplifting to see how communities, volunteer groups and charities have stepped up and I know that wonderful effort will continue. We are also planning to launch a 'son or daughter' of The Moray Emergency Relief Fund – to be called The Moray Community Fund - early in 2023. This is intended to help those who need emergency support over and above what benefits or income they may receive.
Christmas is the time to celebrate the birth of Christ. May the spirit of goodwill towards friends and neighbours abound in full measure throughout our communities this winter.
Merry Christmas and a Happy New Year to you all!
Major General Seymour Monro, Lord – Lieutenant of Moray.
Contact Information
Moray Council Press Office