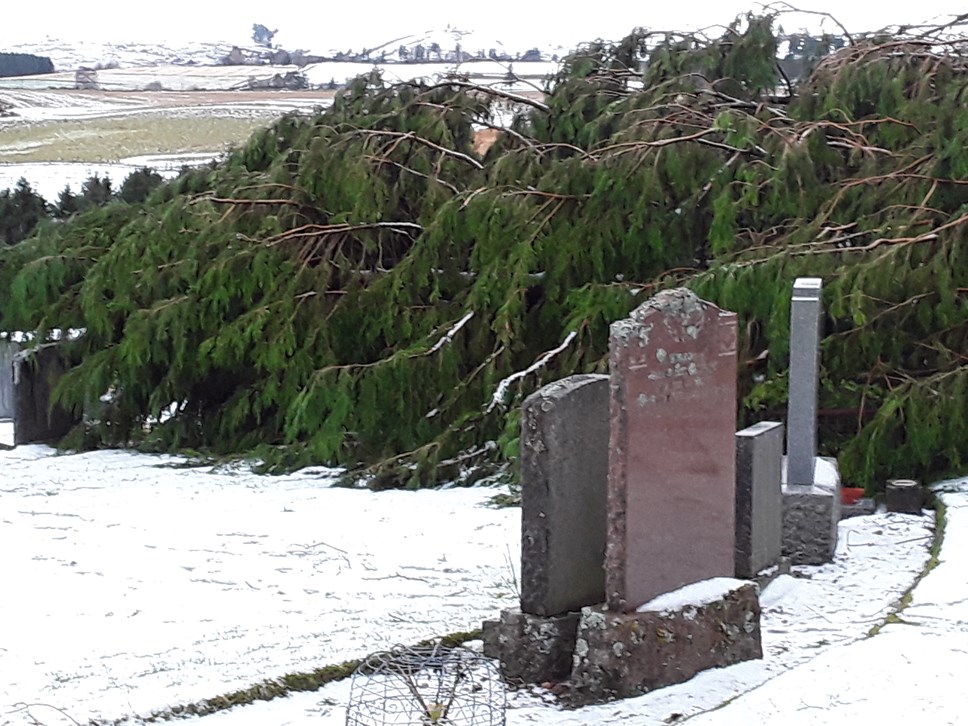 Moray residents warned of continued storm disruption
Moray Council has cautioned residents to be careful when out and about in the aftermath of Storm Arwen.
A large number of trees, branches, fences and walls were damaged over a weekend of high winds and heavy rain, with many remaining in a precarious position.
Some headstones were also destabilised, with Open Spaces staff currently working to secure sites and ensure safe public access.
Moray Council's Emergency Response Co-ordinator now on duty, Jim Grant, is warning residents of further potential disruption.
"We're seeing a forecast of more high gusts of wind and heavy rain overnight Tuesday into Wednesday, which will not be welcomed by those of us affected by the most recent storms.
"I would urge anyone out and about in Moray to be extra careful as our clean-up operation continues. Our teams are out securing or removing branches, trees, fences and headstones that are at risk of causing further damage. But there will be some that were made unstable over the weekend and just need one more gust of wind to topple or fall. Residents are also advised to check their own gardens for any signs of instability."
The latest update from SSEN on Tuesday morning confirms some homes in Moray are still without power and residents are being urged to check on neighbours, particularly in rural areas.
Mr Grant continued: "The community stepped up over the weekend and showed themselves to be resilient in the face of adversity. We ask they continue to show this community spirit and check on any neighbours who may still be without power. We're still available for anyone requiring temporary accommodation and are continuing to check on vulnerable residents. Anyone with concerns can contact us on 0300 123 4566."
Contact Information
Moray Council Press Office