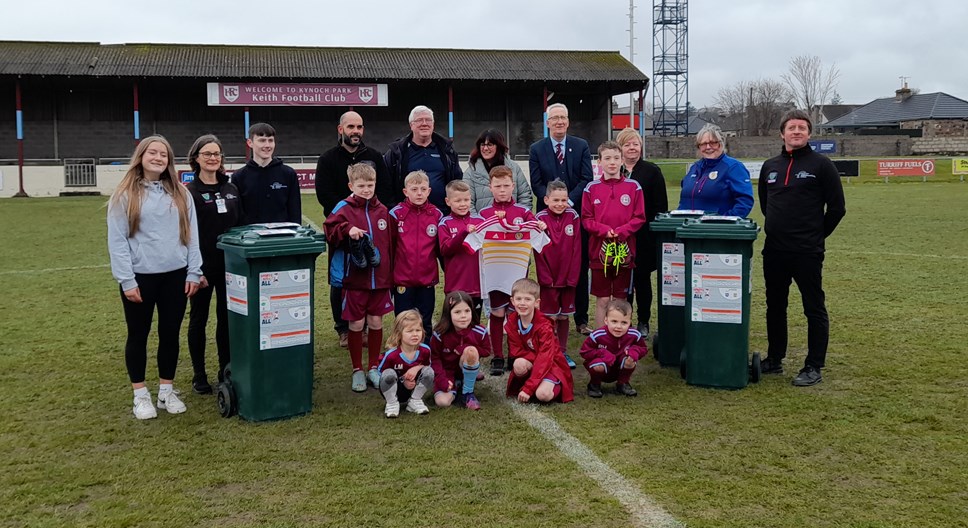 Moray's first Sports Kit for All project launches in Keith
More young people will be helped to get active and take part in sports with the launch today (Tues 28 Feb) of a new kit recycling project.
Sports clothing and footwear which is no longer used but still in good condition, can now be donated to Keith Sports Kit for All which will pass it on to individuals and families in the community who would benefit most.
Collection points marked with the Keith Sports Kit for All logo have been set up around the town by the project partners - Moray Council Active Schools & Community Sport Team, local schools, Keith Football Club, the Loft Youth Project, Keith & District Sports Development Trust and Tesco.
The scheme aims to widen participation in sport and physical activity while encouraging recycling to reduce the amount of waste going to landfill, said the council's Principal Active Schools & Community Sport Officer, Roy McPherson.
"The cost of living situation is having an impact on everyone. Not having suitable sports clothing or a pair of trainers can be a barrier to young people being active.
"Through the project we want to make sure youngsters, regardless of their circumstances, have the kit they need to get active, join in with others and connect with sport clubs and groups in and around Keith."
Donations of items for children and young people including sport trainers and boots, strips, t-shirts, socks, athletic jackets and other associated items, can be dropped off at the Keith Sports Kit for All collections points at the following locations:
Keith Primary School;
Keith Grammar School;
Newmill Primary School;
Keith Sports & Community Centre;
The Loft;
Tesco
All items should be clean, in good condition and placed in tied bags. The donations will be collected, sorted and distributed through the partners.
The Keith scheme is Scotland's latest Kit for All project and follows similar sportscotland initiatives already up and running across the country. The project is expected to be rolled out to other Moray communities later in the year.
Further information is available by emailing sportandculture@moray.gov.uk
Contact Information
Moray Council Press Office