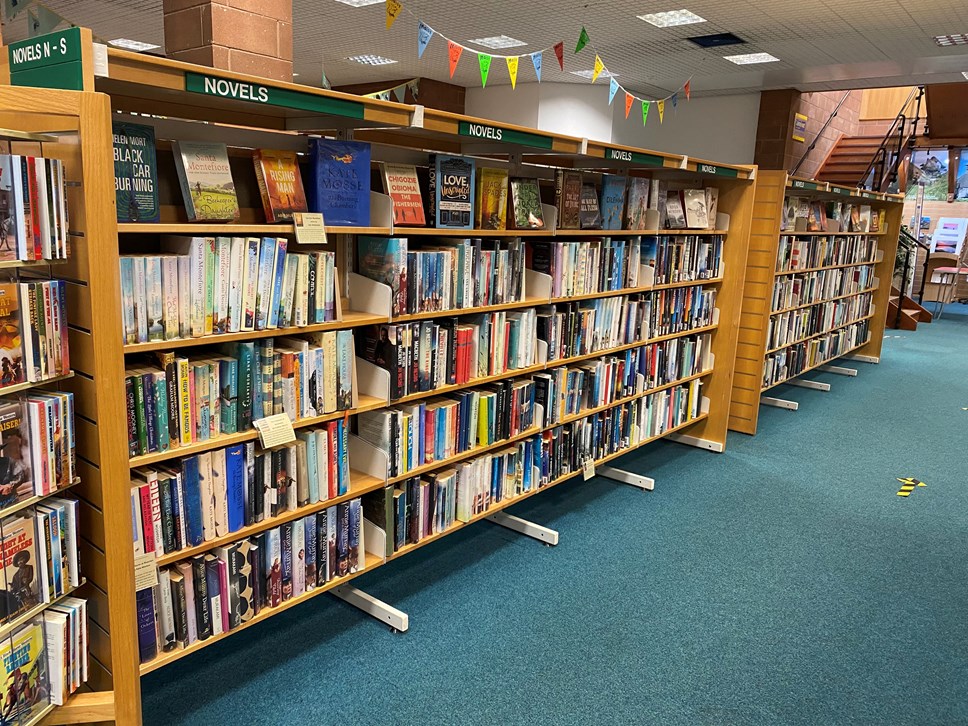 Moray's most popular books in 2021
Moray Council has published its list of the most borrowed books in 2021, showing Moray's avid readers are very much devotees of murder mysteries and crime thrillers.
Author Ann Cleeves topped the chart with her first novel featuring her new detective, Matthew Venn. Cleeves' The Long Call, which is set in Devon, held The Thursday Murder Club, penned by TV personality and author Richard Osman, off the top spot. Barring Osman and Lee Child, the 2021 top ten fiction list was peppered with Scottish and Scottish based talent in the way of Ian Rankin, Val McDermid, Stuart MacBride and Maggie O'Farrell. Not surprisingly US based Scot, Douglas Stuart, was very much in the mix, with his Booker Prize winning novel Shuggie Bain taking fourth spot.
Fiction Top Ten 2021
1 The Long Call by Ann Cleeves
2 The Thursday Murder Club by Richard Osman
3 A Song for the Dark Times by Ian Rankin
4 Shuggie Bain by Douglas Stuart
5 The Sentinel by Lee Child & Andrew Child
6 The Darkest Evening by Ann Cleeves
7 Still Life by Val McDermid
8 The Coffinmaker's Garden by Stuart MacBride
9 Hamnet by Maggie O'Farrell
10 A Silent Death by Peter May
The non-fiction list showed an eclectic assembly of subjects of interest including anthropology, biology, biography and memoir culminating in Michelle Obama's Becoming taking the top spot, above her husband's A Promised Land in fifth spot.
Closer to home and in an excellent second place in the table, is Women of Moray, a volume consisting of stories of women associated with the Moray area, who are of historical importance and examples of extraordinary female achievement. The top ten includes stalwarts like Bill Bryson and Dame Sue Black and also the ubiquitous smattering of 'foodie' favourites with A Pinch of Nom and Hugh Fearnley-Whittingstall amongst the elite.
Non-fiction Top Ten 2021
1 Becoming by Michelle Obama
2 Women of Moray by Susan Bennett et al
3 Lady in Waiting by Anne Glenconner
4 Written in Bone by Sue Black
5 A Promised Land by Barack Obama
6 Adventures of the Yorkshire Shepherdess by Amanda Owen
7 Clanlands by Sam Heughan
8 Pinch of Nom by Kate Allinson
9 The Body: a guide for occupants by Bill Bryson
10 Eat Better Forever by Hugh Fearnley-Whittingstall
During the pandemic and with people spending more time at home, Moray Libraries users have been quick to use the free eBook and eAudiobook service supplied by Overdrive and the Libby App. The top ten listings for these formats of reading material also shows the penchant for murder mystery and the prevalence of Scottish authors especially in eAudiobook format. The most borrowed eBook was Marian Keyes' Grown Ups and the favourite eAudiobook was A Song for the Dark Times by Ian Rankin.
Top Three eBooks 2021
1 Grown Ups by Marian Keyes
2 Worst Case Scenario by Helen Fitzgerald
3 Murder in the Merchant City by Angus McAllister
Top Three eAudiobooks 2021
1 A Song for the Dark Times by Ian Rankin
2 Still Life by Val McDermid
3 The Distant Echo by Val McDermid
For younger readers, the junior fiction selection is dominated by three writers – Jeff Kinney, David Walliams and J K Rowling and it came as no surprise that popular author Julia Donaldson featured several times in the picture book list albeit not on top spot.
Top Picture Books
1 Spot's treasure hunt surprise derived from the original by Eric Hill
2 Maisy gets a pet by Lucy Cousins
3 Ollie and the otter by Emily Dodd
4 Higgly hen by Axel Scheffler
5 The Little Mermaid retold by Geraldine McCaughrean
6 The girl, the bear and the magic shoes by Julia Donaldson
7 Gruffalo, where are you? based on the original by Julia Donaldson
8 The ugly five by Julia Donaldson
9 Little Owl's bathtime by Debi Gliori
10 The Smeds and the Smoos by Julia Donaldson
Top Junior Fiction
1 Rodrick rules by Jeff Kinney
2 Fing by David Walliams
3 The last straw by Jeff Kinney
4 The world's worst children 3 by David Walliams
5 Harry Potter and the prisoner of Azkaban by J K Rowling
6 The meltdown by Jeff Kinney
7 Hard luck by Jeff Kinney
8 The Ickabog by J K Rowling
9 The world's worst parents by David Walliams
10 Diary of an awesome friendly kid by Jeff Kinney
Top Teen Reads
1 The Hunger Games by Suzanne Collins
2 The fault in our stars by John Green
3 Six of crows by Leigh Bardugo
4 Siege and Storm by Leigh Bardugo
5 The ballad of songbirds and snakes by Suzanne Collins
6 Ruin and rising by Leigh Bardugo
7 Toffee by Sarah Crossan
8 The knife of never letting go by Patrick Ness
9 La belle sauvage by Philip Pullman
10 The kill order by James Dashner
With the easing of restrictions, Moray Libraries looks forward to re-introducing reading groups and other activities in the coming weeks and months, but most of all looking forward to welcoming back even more customers to their static libraries and to the mobile library covering the length and breadth of Moray.
Contact Information
Moray Council Press Office