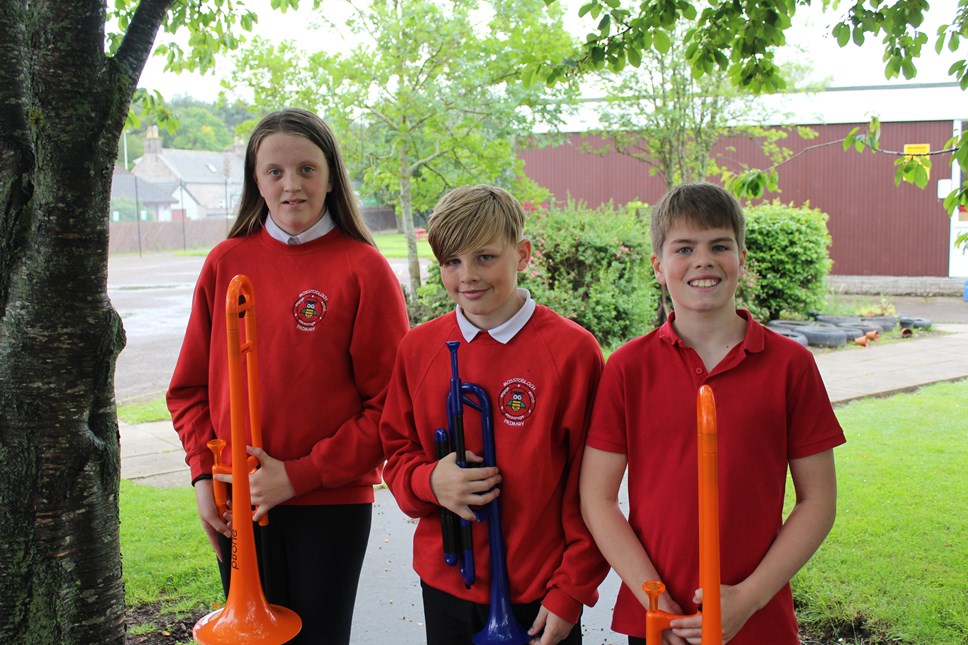 Mosstodloch P7s have the sound of music
THE SOUND of music rang out from Mosstodloch Primary this morning as the P7 pupils gave their end of term performance.
Christine Barron's P7 class has spent the year learning the pTrumpet and pTrombone, plastic versions of the brass instruments, as part of the Youth Music Initiative. An experienced brass player, Christine has not only been learning to play the instruments with the pupils, but has supported the class of 21 with weekly rehearsals, on top of lessons every Tuesday with Moray Council's Brass Instructor, Alasdair Grant.
Head Teacher, Liz Rennie, said the exercise has been a huge success.
"Our P7s gave their first performance at Christmas-time, at the end of term show, then performed again at Easter. You can see their confidence growing and they've been getting better and better. Initially some of the pupils were cautious about learning to play, but they've made so much progress and have really enjoyed playing and performing.
"It's definitely contributed to a supportive and inclusive atmosphere as all pupils are playing, regardless of their ability. They've been playing modern pop songs, with great backing tracks, so they all recognise the music – and the rest of the children in the school have been very taken with it as well.
"We're now looking to repeat it again with next year's P7 pupils, in the hope that as they transition into high school they're tempted to pick up real brass instruments and continue playing and learning."
Chair of Moray Council's Children & Young People's Services Committee, Cllr Sonya Warren said it was an ideal way for the pupils to learn as a group.
"Music is great at bringing people together, so for these pupils to have the opportunity to learn how to play instruments together, to some of their favourite pop songs, is such a good idea to engage them in their learning. Thanks to the class teacher, head teacher and music instructor for their support of this P7 class over the year."
Brass Instructor, Alasdair Grant, said the inspiration came from another class in Moray who undertook a similar exercise.
"One lot of pupils are doing this with fiddles so I realised 'oh, I can do it with brass!' This year's P7s have been standout and enthusiastic pupils, have been attentive and welcomed the lessons with open arms.
"They've actively been seeking to improve with every lesson and performance."
Famous for its colony of dolphins, fabulous beaches and more malt whisky distilleries than any where else in Scotland, Moray is a thriving area and a great place to live. Nestling between Aberdeenshire and the Highlands, Moray stretches from Tomintoul in the south to the shores of the Moray Firth, from Keith in the east to Brodie Castle in the west.
Contact Information
Sharon Dunbar