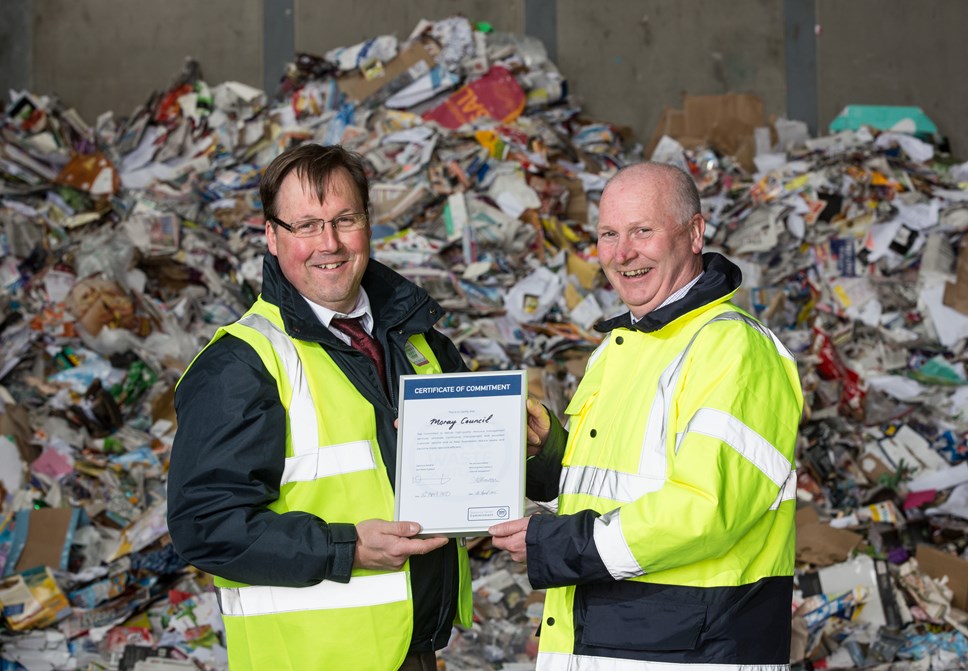 National Commitment Makes Health and Safety Excellence the Goal for Scotland's Resources Sector
Scotland's resources sector is being inspired to achieve excellence in health and safety as the second phase of its Commitment charter is launched.
Scotland's resources sector is being inspired to achieve excellence in health and safety as the second phase of its Commitment charter is launched.
The commitment is Zero Waste Scotland's 'kite mark' for quality in the waste and resources sector, backed by the Scottish Government.
Cabinet Secretary for the Environment Richard Lochhead and Zero Waste Scotland's Charlie Devine visited Moray Council's commercial and household recycling depot at Moycroft in Elgin as Moray became the sixth local authority to sign up to the initial phase, which covers customer service.
Scotland's Resource Sector Commitment is a Zero Waste Scotland 'kite mark' for resource management companies, a voluntary agreement demonstrating a dedication to customer service in the industry. It's now being expanded to include excellence in health and safety in a bid to showcase the professionalism of the industry and support national efforts to increase recycling.
Visiting Moray to congratulate the council on signing up to the customer service commitment, the Cabinet Secretary announced that phase two, the new health and safety commitment is now open to the industry.
Richard Lochhead, Cabinet Secretary for the Environment said:
"Over half of Scotland's waste comes from businesses. In order to continue to increase recycling in Scotland, and support business in dealing responsibly with its waste, we need to drive up standards in the resource management industry to ensure customer confidence and the accessibility of high-quality services. A commitment to excellence in health and safety is a particularly important step to take.
"I'd also like to congratulate Moray Council, who have shown they are determined to serve their trade customers well, on signing up to the customer service commitment."
Charlie Devine, Head of Resource Management, Zero Waste Scotland, said:
"Phase one of Scotland's Resource Sector Commitment has been a great success with a broad range of private and local authority waste services committing to deliver great customer service. With the launch of the second phase, focussing on health and safety, we're expanding the opportunity for the sector to broadcast its credentials to customers even further.
"I'm delighted to present Moray Council with their customer service certificate and I look forward to talking to all signatories about signing up to the health and safety standard that we're launching today."
The aim of the commitment is to promote continuous improvement and enable businesses to reduce waste and be more resource efficient, as well as showcasing their credentials to customers, giving them confidence in the standards adhered to by the company. The commitment is for any organisation involved in providing waste or resource management services to commercial customers in Scotland. This includes local authorities, private and third sector resource management businesses and resource management associations and trade bodies.
Moray Council, whose commercial waste customers include Walkers Shortbread, has become the latest signatory to phase one – customer services. The council makes a dedicated Trade Waste Officer available for all customers, and keeps them informed via its website and local business groups, and the contact centre handle any queries. Collection crews feed any trade waste issues back to council management and regular customer satisfaction surveys are carried out. Staff training in relevant skills (including communication) is prioritised across the board.
Moray Council's waste management team were congratulated by the chair of the Economic Development and Infrastructure committee, Cllr John Cowe.
"Grant Wilson and all of his team work extremely hard to keep Moray at the top of the recycling league, and they have been on the front foot with regard to commercial waste," he said.
"I've had very good feedback from the local business community about the way information and advice has been put out by the team, and it's reassuring the same dedication is being applied to maintain an equally high standard in health and safety in their operations."
Moray Council area stretches from Tomintoul in the south to the shores of the Moray Firth, from Keith in the east to Forres in the west. The council and its 4,500 employees respond to the needs of 92,500 residents in this beautiful part of Scotland, which nestles between Aberdeenshire and the Highlands.
Headquartered in Elgin, the administrative capital of Moray.
Contact Information
Sharon Dunbar