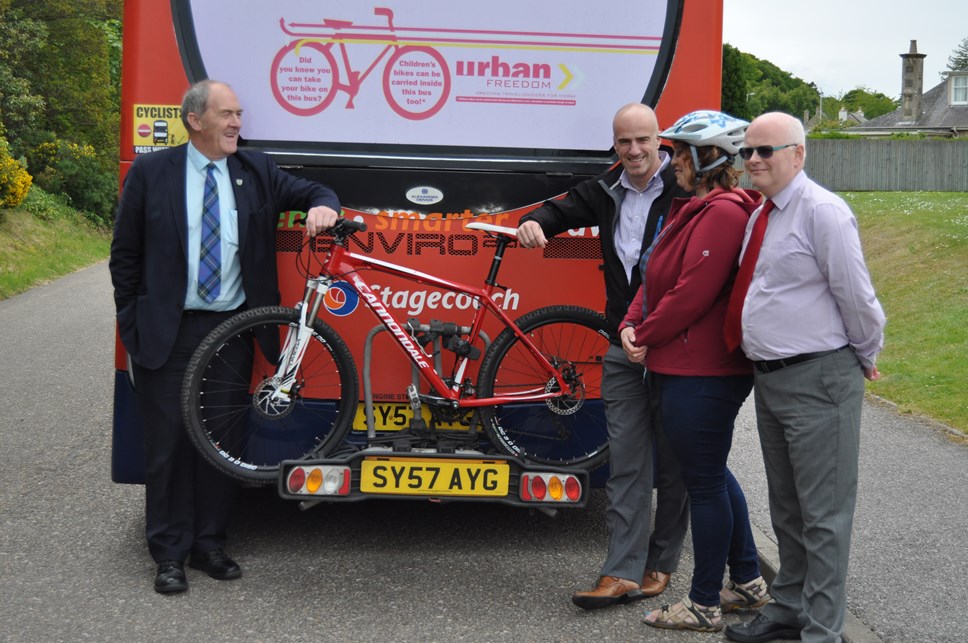 New bus routes and bike friendly buses introduced.
Bus passengers can now take their bike for a ride between Elgin, Kinloss, Findhorn, Forres, Hopeman and Burghead. In addition, local services to and from the new Forres health centre have been increased to run every hour, with a drop-off point inside the health centre grounds.

Bus passengers can now take their bike for a ride thanks to new services launched by Stagecoach, Hitrans and Moray Council yesterday.
The initiative will see bike racks fitted to buses travelling between Elgin, Kinloss, Findhorn, Forres, Hopeman and Burghead, and local services to and from the new Forres health centre will increase to run every hour droping-off inside the health centre grounds.
The changes were launched in Forres yesterday by Stagecoach Managing Director for North Scotland area, Steve Walker and Moray Councillor, George Alexander.
The £213,000 project has been funded for two years by Hitrans, Stagecoach, Moray Council and the Bus Investment Fund.
The project will include the introduction of a new Sunday service linking Burghead, Cummingston, Hopeman and Duffus with Elgin, using buses equipped with external cycle racks for adult and childrens' cycles.
The 'bikes on buses' facility on services 31 and 32 allows travellers to make any onwards journey by bicycle. The initiative meets the aims of Moray Council's Transport Plan and Urban Freedom project in offering increased public transport provision to minimise short car journeys and hence reduce emission levels.
By the end of June 2015 a plasma real time screen will be displayed within the health centre advising times of buses serving Forres to all points. Real time displays will also be promoted at Findhorn and Kinloss, and three new passenger shelters are be installed in Kinloss village, one in Findhorn.
Previously patients had a two-hour service that dropped off in the middle of Forres, a lengthy walk for some from the health centre.
Steve Walker said: "We are pleased to support the council in the promotion of the 'bikes on buses' campaign.
"We are constantly looking at new ways to promote the attractiveness of our services. Promotion of the service will hopefully encourage some motorists out of their cars in favour of using the bus for one leg, or even just part of their journey, and cycle the rest of the way. We hope that this will be an appealing option to commuters who have a significant distance between bus stop and destination."
Customers can now board the bus and bring their bicycle with them at no extra cost. Adult bikes can be carried on the rear rack with children's bikes inside. The service will also appeal to leisure cyclists wishing to make use of the traffic free coastal cycle routes which are ideal for families and leisure cycling. The Bikes on Buses project will encourage more cycle tourism in Moray and will provide a link between the towns and coast for those arriving by train too.
Cllr Alexander, who is also chair of the Forres Patient Participation Group, said: "I am delighted with this service improvement, in particular the buses to and from the health centre. This has been introduced in response to public demand, the council has listened to that and acted.
"As a cyclist myself I'm also pleased to see the cycle provision fitted to buses. I would urge everyone to use this to access some of the marvellous cycleways we have in the area."
Notes: In the pic LtoR are: Cllr George Alexander, Steve Walker (Stagecoach MD), Pat Douglass (Moray Council's sustainable travel officer) and Donald MacRae, (Moray Council's public transport manager)
Moray Council area stretches from Tomintoul in the south to the shores of the Moray Firth, from Keith in the east to Forres in the west. The council and its 4,500 employees respond to the needs of 92,500 residents in this beautiful part of Scotland, which nestles between Aberdeenshire and the Highlands.
Headquartered in Elgin, the administrative capital of Moray.
Contact Information
Sharon Dunbar