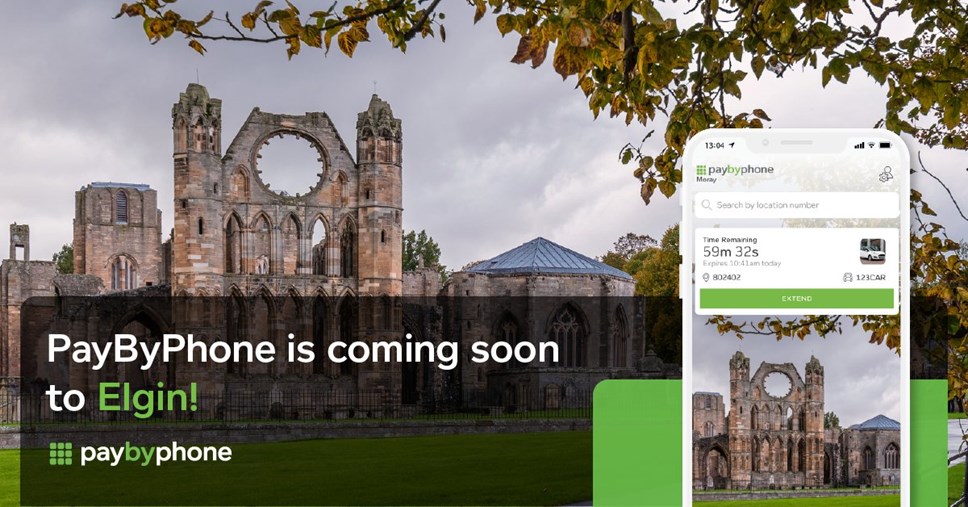 PayByPhone for parking in Elgin
PAYING for parking in Elgin is set to become totally touch-free tomorrow (Wednesday 16 December).
Residents and visitors will be able to pay to park in any Moray Council car park in Elgin using their mobile phone or smart device. There will be no physical ticket printed, and drivers can receive reminders when their ticket is due to expire, and extend the length of their stay, without revisiting their vehicle. Stickers detailing how to use PaybyPhone have been applied to car parking machines.
The touch-free option follows Scottish Government guidance for contactless payments to be used where possible to reduce cash handling. There remains the choice to pay with cash in all car parks, and with card in many.
Chair of Moray Council's Economic Growth, Housing & Environmental Services Committee, Cllr Graham Leadbitter, said it's good news for residents, visitors and businesses.
"Contactless payment for car parking is more and more widely used and has been a growing request from car park users as more people move to using that payment technology.
"It also has benefits for people being able to top up their payment without having to return to their vehicle and worry less about how long they have, with the ticket effectively on their phone.
"This adds more flexibility for shoppers using our car parks in the final run-up to Christmas. Don't forget that you can also park for 'free after 3' in St Giles car park in Elgin through to Saturday 4 January, which is great for Christmas shopping and the start of the sales!"
Contact Information
Moray Council Press Office