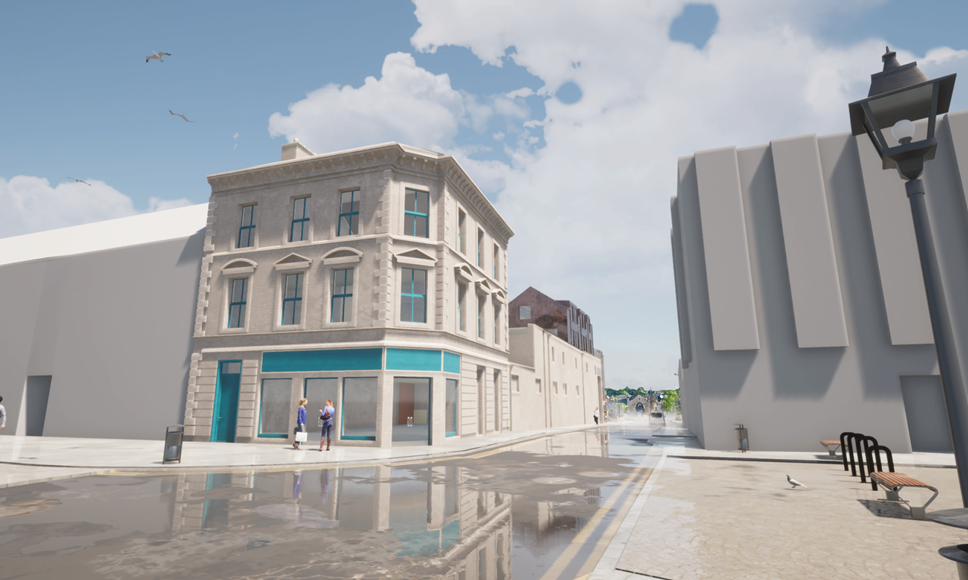 Planning consent sought for Elgin's Poundland building
Plans have been submitted to Moray Council for the refurbishment of Poundland's building in the centre of Elgin.
The B-listed building has been clad in scaffolding for over two years, closing a part of the town's road network while plans were developed.
The plans propose a corner retail outlet as was its existing use, along with a residential development of modern flats in the upper floors and at the rear along North Street.
Poundland secured the Victorian building last year, the first property it has owned during its 30 years of trading. Previously it leased the premises, similar to the more than 800 stores it operates throughout the UK. The company has previously said that owning the building made the refurbishment possible, and is a vote of confidence in the town's future prosperity.
Ben Wall, Poundland's Head of Portfolio Management, said:
"We're delighted to have worked closely with Moray Council, firstly to acquire the freehold of our store in Elgin and now to get to today's planning submission.
"It's a major milestone in our efforts to address the structural issues in such an important building to the town and also provide homes that support central Elgin as a place to live, as well as shop and work."
The building was shored up by a web of scaffolding and screened off with shuttering in May 2018. Water ingress through the roof over many years had significantly weakened the structure, leading to fears that parts of the building might collapse.
The proposed refurbishment will involve the demolition of key sections of the sandstone structure before it is rebuilt, with the upper floors brought back into use as residential accommodation.
Due to the importance of the building and the wider public interest the proposals will be put before members of the Planning and Infrastructure Services Committee for decision.
Leader of Moray Council, Cllr Graham Leadbitter, welcomed the plans.
"It is good to see progress on this iconic building, and the positive engagement from the business to get to this point," he said.
"The council's officials will set out the timescale to get this application before the Council's Planning and Regulatory Services Committee so that it may be decided upon as part of the formal process."
View the plans at this link: https://publicaccess.moray.gov.uk/eplanning/applicationDetails.do?activeTab=documents&keyVal=QDR7DBBGK3Y00
Contact Information
Moray Council Press Office