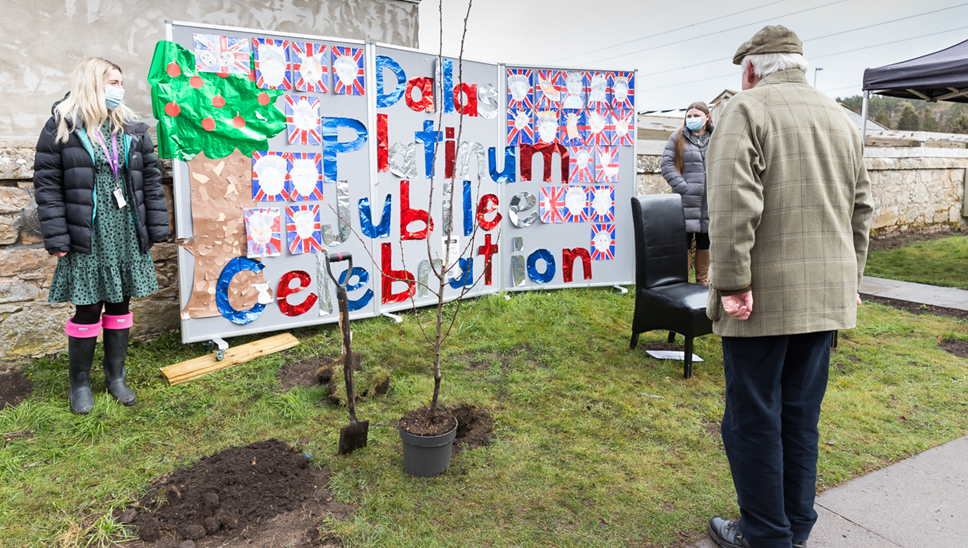 Queen's Platinum Jubilee marked in Moray
Her Majesty The Queen has sent a message to Moray residents involved in the Queen's Green Canopy initiative.
"I am deeply touched that so many community groups, schools, families and individuals have made their own unique contributions to the Green Canopy Initiative."
Since May 2021 thousands of trees and saplings have been planted within Moray and Banffshire by 12 community groups, 21 schools and nurseries, and a further five have indicated their wish to plant in the next tree planting season, from November 2022 onwards.
Children have been assisted by parents, staff and the Lord-Lieutenants of Moray and Banffshire and their Deputies. In March, HRH The Princess Royal planted an oak tree at the Earthtime Forest Nursery School, Duffus, with help from the children there.
Lord Lieutenant of Moray, Major General The Hon Seymour Monro, said: "It's been a real joy to be with all the happy, smiling children as we've planted various types of trees around the region.
"The Lieutenancy teams have also hugely enjoyed visiting schools and talking to lots of enthusiastic children. Many of them were also involved in the Moray Badge.
"I hope they continue to cherish the trees they've planted and recognise the auspicious occasion that it marks."
The plantings across Moray will culminate with seven 10 foot tall lime trees - one for each decade of The Queen's reign - being planted along the inner loop path of Cooper Park in Elgin. The trees will be planted at the end of April and officially named during a VIP ceremony in June.
Moray Councils Open Spaces team will maintain the trees with help from the Moray Queen's Green Canopy committee. Generous donations from local businesses and individuals have been received to support the initiative in Moray.
Other Platinum Jubilee events in Moray are taking shape in communities across the region.
Over 5,200 children from 36 schools, three organisations and 18 home schooled families are taking part in the Moray Badge Platinum Jubilee activities. Badges and certificates will be presented in June.
Jubilee weekend itself kicks off on Thursday 2 June with beacon lighting along the Moray coast, accompanied by pipers and choirs singing Song for the Commonwealth. Organisations are encouraged to light up buildings, monuments and lighthouses and churches to ring bells.
Picnic lunches, street parties and community gatherings are taking place over the weekend of 3-5 June all over Moray. More details are available on the Moray and Banffshire Lieutenancy websites.
Contact Information
Moray Council Press Office