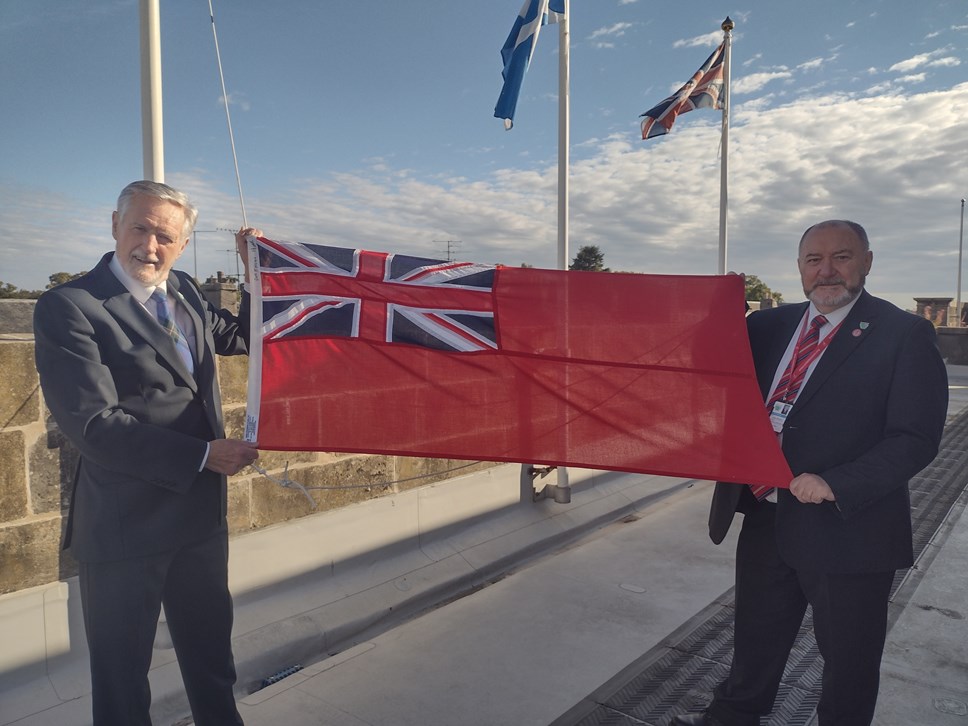 Red Ensign flies over Moray Council HQ
THE RED Ensign is flying over Moray Council's HQ in Elgin to mark Merchant Navy Day.
The council's Civic Leader, Cllr John Cowe, joined by Elgin councillor – and Royal Navy veteran – Cllr John Divers, raised the flag this morning (2 September) ahead of Merchant Navy Day tomorrow.
'Fly the Red Ensign' is an annual campaign run by The Seafarers' Charity to honour the men and women who kept the UK afloat during both World Wars and celebrate modern-day merchant seafarers.
Cllr John Cowe said: "The contribution that seafarers – both past and present – have made to our lives is profound. I'm pleased to play a part in recognising this on behalf of the people of Moray, through the flying of the Red Ensign."
Cllr John Divers said: "The seafarers of the Merchant Navy are often unsung, so it's fitting that this annual day causes us to pause and consider their courage and sacrifice, both in conflict and during peacetime."
September 3 was designated as Merchant Navy Day in commemoration of the 128 passengers and crew of the British merchant vessel SS Athenia which was torpedoed just a few hours after war was declared on Germany in 1939.
Contact Information
Moray Council Press Office