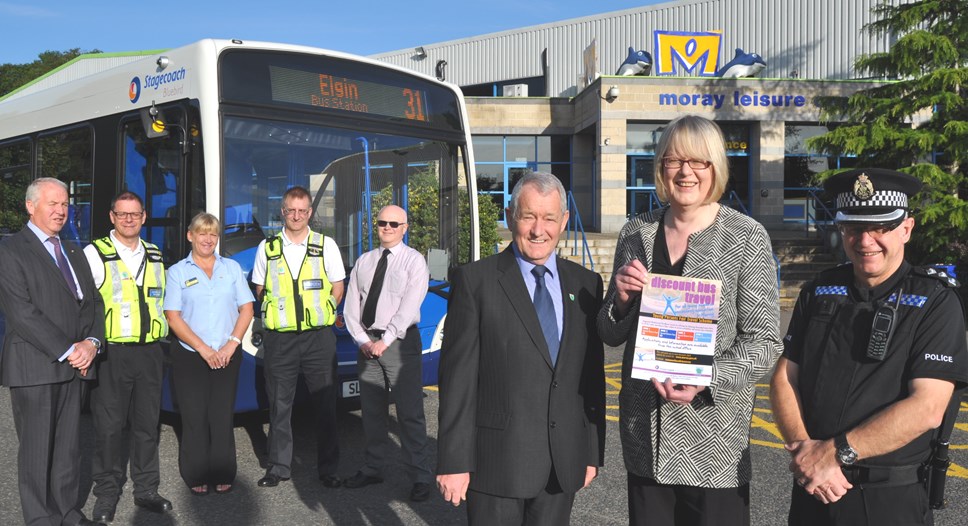 Relaunch of cut-price bus fare scheme for Moray youngsters
A scheme which entitles youngsters to cut-price bus travel to and from Elgin is to be relaunched.
A scheme which entitles youngsters to cut-price bus travel to and from Elgin is to be relaunched.
It will enable young people of secondary school age to travel from outlying areas to access facilities and activities which may not be available in their own communities.
The Fair Travel scheme was launched initially in 2000 after teenagers identified the high cost of bus travel as a major barrier to travelling to Elgin to visit the cinema or take advantage of leisure facilities.
However, the scheme fell into abeyance and recent evidence suggests that the cost of bus fares continues to deter youngsters from elsewhere in Moray travelling to Elgin.
Now the Moray Community Safety Partnership and bus operator Stagecoach are teaming up to reintroduce the scheme from August 28.
Young people will be issued with a Fair Travel card which can be obtained from their school and which will entitle them not only to reduced bus fares to and from Elgin but also discount at the Moray Leisure Centre, Moray Playhouse and a number of retail outlets in Elgin.
Moray Council community safety officer Andy Jamieson said there was a mistaken assumption that under-16s who were members of the Young Scot card scheme received discounted bus fares.
"The community safety partnership, along with Stagecoach, is delighted to be in a position to reintroduce the Fair Travel scheme in Moray and I would like to thank Stagecoach and all the other businesses for their participation in the scheme.
"By providing the young people in secondary education with discounted travel we will hopefully reduce incidents of anti-social behaviour within local communities."
Elgin-based Chief Inspector Willie Findlay, of Police Scotland, also welcomed the reintroduction of the scheme.
"The perceived lack of facilities for youngsters in this age group in their own communities is often cited as the cause of vandalism and other acts of anti-social behaviour," he said. "This initiative will help them access a much wider range of facilities and entertainment venues than they might otherwise be able to enjoy."
Steve Walker, managing director of Stagecoach North Scotland, said: "Stagecoach is delighted to support the Fair Travel scheme in Moray once more.
"We think it is vital that young people can afford to use our services and we hope the scheme will encourage more people to use public transport to travel to Elgin."
Examples of the reduced return fares are: From Cullen - £5 (normally £7.80); Buckie - £4 (£5.80); Dufftown - £4 (£5.80); Garmouth - £3 (£4.40); Forres - £3 (£4.90); Lossiemouth - £2 (£3.20).
Moray Council area stretches from Tomintoul in the south to the shores of the Moray Firth, from Keith in the east to Forres in the west. The council and its 4,500 employees respond to the needs of 92,500 residents in this beautiful part of Scotland, which nestles between Aberdeenshire and the Highlands.
Famous for its colony of dolphins, fabulous beaches and more malt whisky distilleries than any where else in Scotland, Moray is a thriving area and a great place to live.
Headquartered in Elgin, the administrative capital of Moray.
Contact Information
Sharon Dunbar