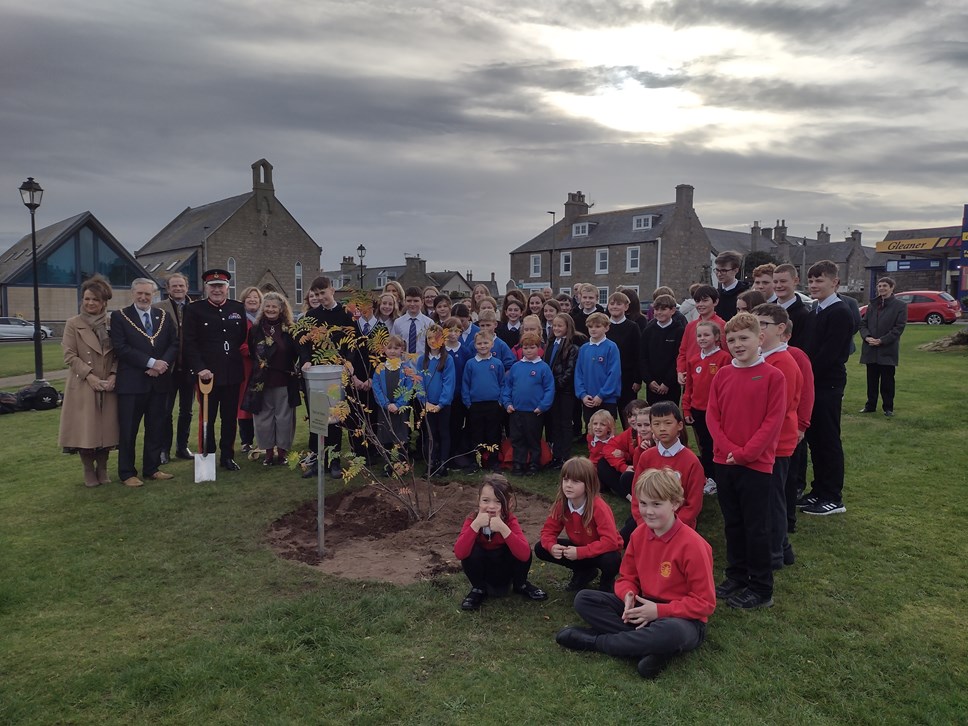 Rowan from Platinum Jubilee 'Tree of Trees' planted in Lossiemouth
A ROWAN tree from The Queen's Platinum Jubilee celebrations at Buckingham Palace was today (Thursday 27 October) planted in Lossiemouth's James Square.
The tree and special crested pot, from the 21 metre 'Tree of Trees' sculpture, was gifted to Lossie to mark the community's commitment to taking part in The Queen's Green Canopy during Her Majesty's Platinum Jubilee.
Designed by Thomas Heatherwick, the sculpture - featuring 350 native British trees - stood tall as a message of hope, regeneration and optimism to the nation and the world as part of the Platinum Jubilee weekend celebrations.
Representatives from the Moray Lieutenancy and Moray's Civic Leader, Cllr John Cowe, were joined by John Stuart, The Earl of Moray, who chaired The Queen's Green Canopy committee in Moray, for today's ceremony. Also there to represent their respective schools were pupils from St Gerardine's and Hythehill primaries, and Lossiemouth High.
St Gerardine's eco committee planted over 350 saplings during the Queen's Green Canopy initiative; Hythehill pupils planted saplings in their primary school grounds, while 15 packs of saplings were planted at Lossiemouth High by its pupil eco committee. These eco committees will continue to play their part by maintaining the tree. Lossiemouth Community Council have also been much involved in The Queen's Green Canopy initiatives including planting saplings in Marine Park.
Moray's Lord-Lieutenant, Major General Seymour Monro, who planted the tree said: "It was an honour to nominate Lossiemouth to become a recipient of a tree from the remarkable 'Tree of Trees', marking their significant participation in The Queen's Green Canopy. This tree is a thank you to the pupils and community of Lossiemouth, and I hope it will inspire more to take part in this tree-planting initiative during its extension to March 2023.
"The Queen's Green Canopy project symbolises a thriving living legacy of Her Majesty The Queen, and her unwavering service to this country. May this Rowan tree be a fitting memorial to her."
Civic Leader of Moray Council, Cllr John Cowe, said: "I'm grateful to our Lord-Lieutenant for supporting Lossiemouth with a nomination to receive a tree from the Platinum Jubilee celebrations. It's a great honour for Moray, and we will take good care of it."
Contact Information
Moray Council Press Office