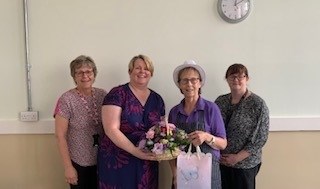 School cook retires after 48 years in the kitchen
After almost five decades working in the same Forres school, end of term today sees Frances Thomson hang up her apron for the final time after saying goodbye to pupils and colleagues.
Unit Supervisor Frances (66) has spent 48 years in the kitchen at Anderson's Primary School where she started working part-time as an assistant cook while gaining her catering qualifications at college.
During her time at the school, Frances, who lives in Dallas, has served up millions of meals to hungry youngsters. The team at Anderson's currently prepare around 230 meals at day for pupils at the school and for neighbouring Dallas and Logie Primary Schools.
Frances said: "I'm probably meeting the grandchildren now of the pupils who were here when I first started. So much has changed in terms of the range of choices offered on the menu and the nutritional standards we work to which limit the amount of red meat for example.
"The children love things like pizza, hot dogs and sausage rolls – they are always a big favourite."
Frances, who was presented with retirement gifts by her colleagues in the council's Catering Service, is looking forward to spending her free time enjoying holidays and catching up with family and friends.
"It will be lovely not to have to watch the clock all the time," she said.
Council Catering manager, Elaine McRae, paid tribute to her longest serving member of staff.
"Frances is an exceptional unit supervisor and fantastic cook. She is a total font of knowledge in the kitchen and has been a much respected and valued member of the team. We will miss her greatly and wish her a long, happy and healthy retirement," she said.
Contact Information
Moray Council Press Office