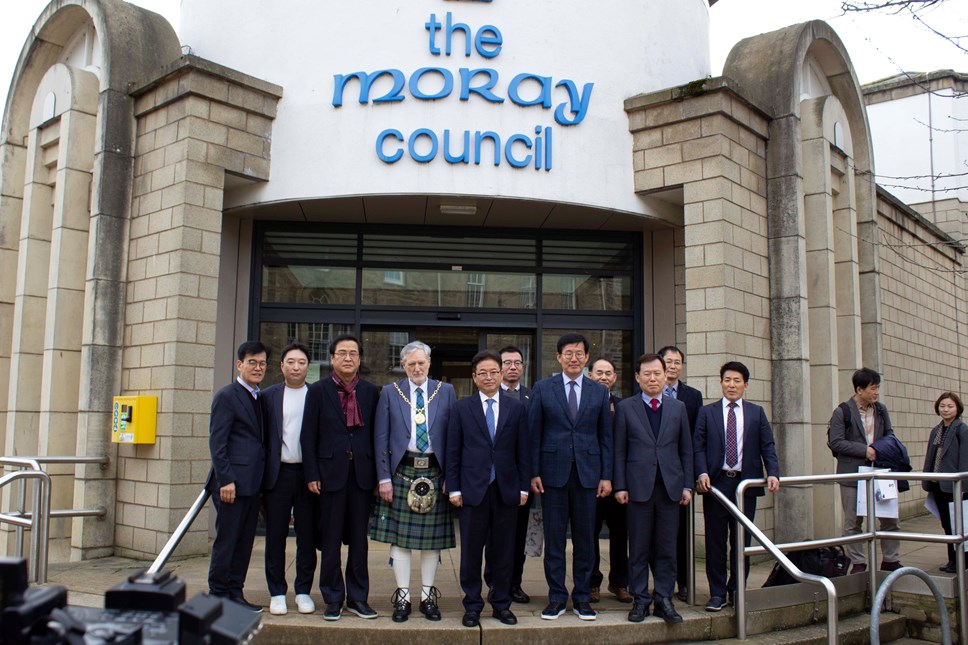 South Korean trade delegation visits Moray Council
Visitors from the Gyeongbuk-do Provincial Government in South Korea were welcomed to the Moray Council chambers by the Civic Leader, elected members and Moray Chamber of Commerce.
The delegation visited council HQ during a tour of Moray, which included a behind-the-scenes look at Forsyth's in Rothes, a Johnstons of Elgin factory visit and lunch, and tours of Glen Moray and Benromach distilleries.
The party included Cheol-Woo Lee, Governor of Gyeongbuk-do; Young-se Park, Council Member; Woo-Young Choi, Special Advisor for Economy; Joong-Ha Hwang, Head of Investment Promotion; Sang-dong Kim, President of Gyeongbuk Provincial College; Sang-Hak Lee, Deputy Mayor of Andong City; Sun-lik Gwon, Director of Export and Food, Andong City; Sang-Hwan Yun, Director, Division of Art and Culture; Seok-Hun Jeong, Director, Division of Global Export; Hee-Seung Im, Chief Secretary; and Woo-Hyeong Jeon, Director General, Korea Trade and Investment Promotion Agency.
A presentation was given to the visitors about Moray and Civic Leader, Cllr John Cowe, hopes the visit boosts trade for Moray in South Korea.
"A productive discussion was had on potential partnerships following a fascinating insight into the Gyeongbuk-do Provincial Government. My sincere hope is that we see the strengthening of trade links for Moray following this visit. We have a lot to offer a growing economy such as South Korea and I'm delighted our counterparts there see the potential as well."
Chair of the council's Economic Development and Infrastructure Services Committee, Cllr Marc Macrae, added: "The partnerships being pursued are an extremely exciting prospect for Moray and ones which I hope will be replicated in other global economies. This is exactly the ambition for Moray I see our local businesses striving for and anything we can do as a local authority to support that deserves our attention."
Contact Information
Moray Council Press Office