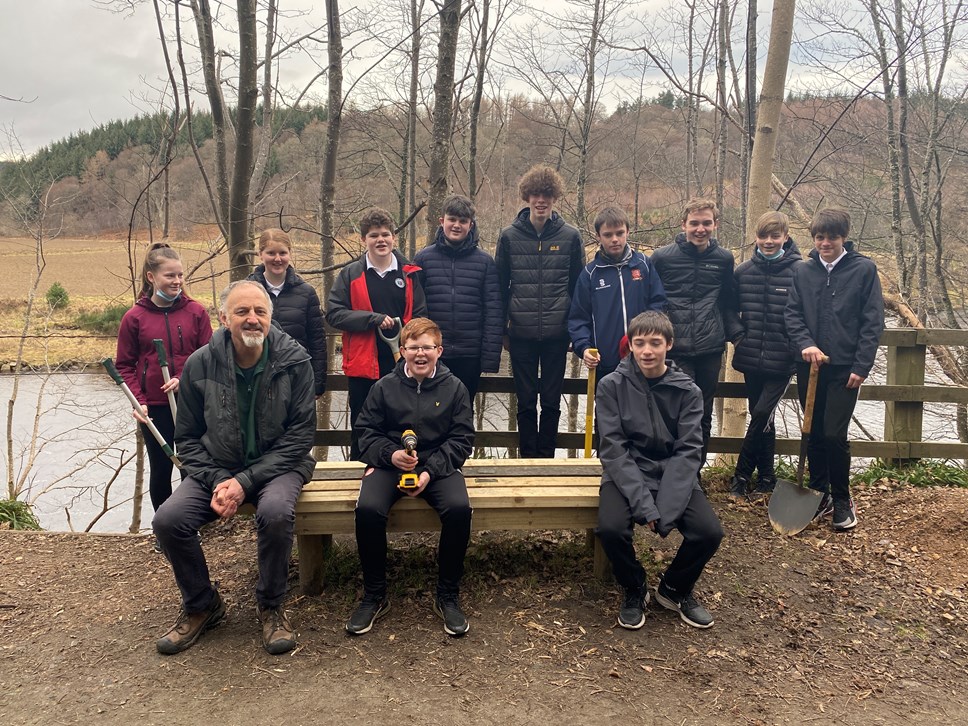 Speyside High School Junior Rangers honour former pupils 40 years on
Speyside High School participants in the John Muir Junior Ranger programme have joined forces with Moray Council's Countryside Ranger to re-build a bench on the Speyside Way.
The bench was originally built in 1981, the year the Speyside Way opened, by then senior Speyside High School pupils and was refurbished by current S3 students in its 40th anniversary year.
Situated on the Speyside Way as it passes Aberlour, the new bench uses the original rails and plank that hosts a plaque commemorating the pupils who built it 40 years ago. A new plaque has now been added to honour the pupils who undertook the project in 2021.
Speaking as the finishing touches were made to the bench, Moray Council's Countryside Ranger, Ged Connell, said: "It's been an extremely rewarding project working with the Speyside High pupils and a lovely arc in the life-story of this bench.
"We knew the bench needed replaced or refurbished so when the S3 Junior Rangers were looking for an outdoor project it was the perfect fit for them. The Junior Ranger programme is also a fantastic introduction for our young people to learn about and experience a range of countryside careers and how they can contribute to our great outdoors in Moray."
Speyside High School Head Teacher, Tricia Goodbrand, added: "Our S3 John Muir pupils have really enjoyed this project and have gained valuable skills in the process. As one pupil said; 'It's pretty cool to have rebuilt the bench'.
"More than that though, it's been a privilege for them to honour our pupils of 40 years ago, who built the original bench when the school was only five years old. It's a wonderful link for them to have to our heritage locally and I hope people walking the Speyside Way enjoy the bench for at least another 40 years."
Pupils also contributed to rebuilding fences and shoring up embankments near to the bench site, which can be found beyond the suspension bridge over the Aberlour Burn.
Contact Information
Moray Council Press Office