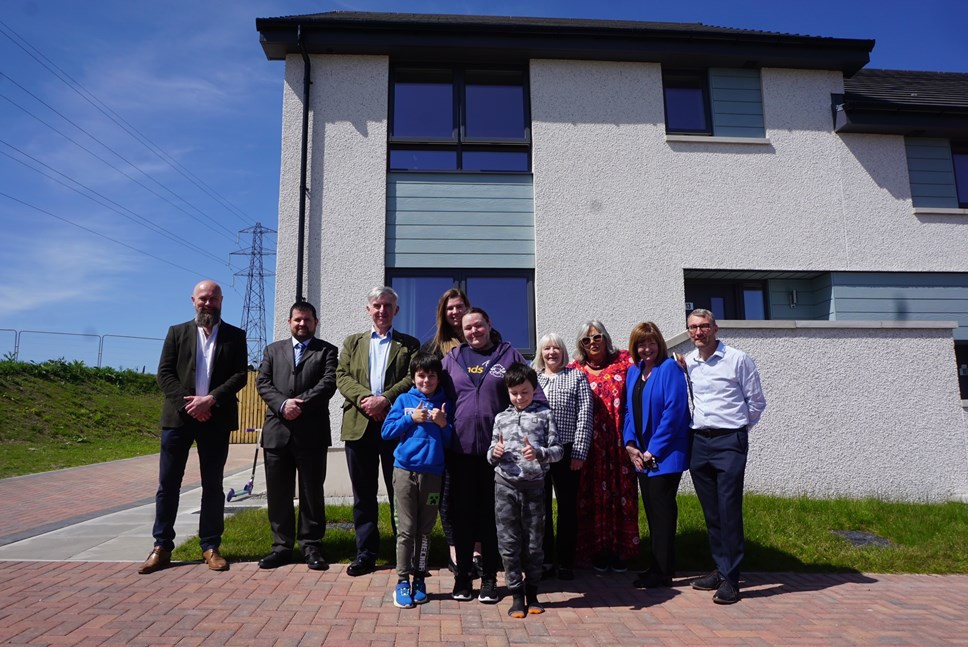 Tenants move into new Moray Council houses in Keith
Moray Council officially accepted 33 new build houses at Banff Road in Keith today (Monday 29 May).
The mixture of one-bedroom flats, two and three-bedroom accessible bungalows, and three-bedroom houses, built by Springfield, is a boost to the Council's housing stock for affordable rent.
Most of the properties are already providing much-needed homes for local residents.
New tenant, Nicola Thain, said the move to the property was "life changing" for her and her young family.
The 40-year-old mum, who moved in three weeks ago with her partner, Neil Bowie, and sons, Rory (10) and Tobi (8), after relocating from Den Crescent in Keith, said: "I just love it here, the space in this house is amazing, and we have a big back garden.
"It's so peaceful. It has definitely been life-changing for us."
Chair of Moray Council's Housing and Community Safety Committee, Cllr Amber Dunbar, said the new homes are a welcome addition to the local housing market.
"We're delighted to accept handover of another phase of this development.
"The majority of these properties have been allocated to households already living in Keith or in the surrounding area. We use a local lettings plan to help us decide who should be allocated one of our new build homes. This plan also helps us make sure our new developments create sustainable communities and ensures we make best use of housing stock."
Springfield Partnerships Managing Director, Tom Leggeat, said: "We are pleased to have been involved with the design and delivery of a collection of highly efficient homes in Keith, in partnership with Moray Council.
"We have a varied portfolio of house styles to suit a range of families, each that can be adapted to meet specific needs. It was heart-warming to hear first-hand the impact our involvement has made for Nicola, and we are delighted to have helped make a difference for her.
"We've delivered over 670 homes with Moray Council over the years, including these at Keith, and are looking forward to continuing to build quality homes with them across the region."
Click here to view the local lettings plan on the Council's website.
Contact Information
Moray Council Press Office