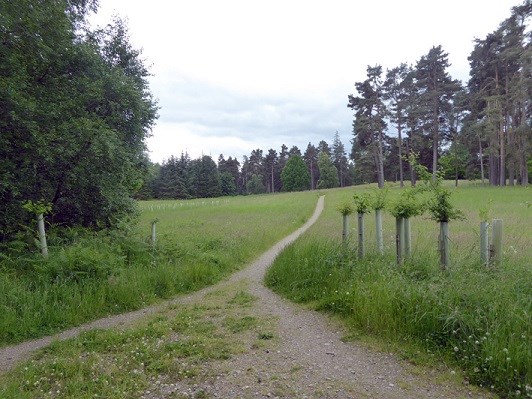 The Queen's Green Canopy is coming to Moray
The 'plant a tree for the Jubilee' initiative was launched nationwide on Monday (17 May) and will see the planting of millions of trees and saplings in commemoration of HM The Queen's Platinum Jubilee in 2022.
It is also designed to be a major boost to the environment during the worldwide climate emergency.
The Moray Queen's Green Canopy (QGC) Team is being supported by the Lord-Lieutenants of Banffshire and Moray and is chaired by The Earl of Moray. The team includes Moray Council officers and will draw upon the expertise of local forestries and use local nurseries where possible.
Everyone from individuals and community groups to schools and businesses are encouraged to plant saplings which will be provided free by the Woodland Trust. Urban areas, care homes and historic sites will also be considered for the planting, which takes place from October this year and throughout the Jubilee year of 2022.
Both Lord – Lieutenants, Mr. Andrew Simpson and Major General Seymour Monro, expressed their enthusiasm for this major national initiative. The latter said: "We are confident that schools and communities will want to get behind this and plant thousands of saplings and trees Moray-wide. We are also very excited about a major ceremonial avenue and are planning a major tree planting launch on 1 October.
"We also look forward to these forming part of the major celebrations of Her Majesty's Platinum Jubilee in June next year."
It is the intention that at least one Platinum Jubilee ceremonial avenue will be created in Moray in a location to be confirmed. Copses and individual specimen trees may also be planted on private land. In addition, current trees and woodlands of significant interest will be identified and signed with plaques for future generations.
Major donors and partners UK wide are being brought on board and there will be a local fundraising campaign to supplement the provision of free saplings. There will also be the opportunity to sponsor a tree in a person's memory. The Moray QGC Team will be sending out information and advice to schools and community councils shortly.
For further details see: www. queensgreencanopy.org or https://www.lordlieutenantmoray.co.uk/ or www.lordlieutenantbanffshire.co.uk.
Contact Information
Moray Council Press Office