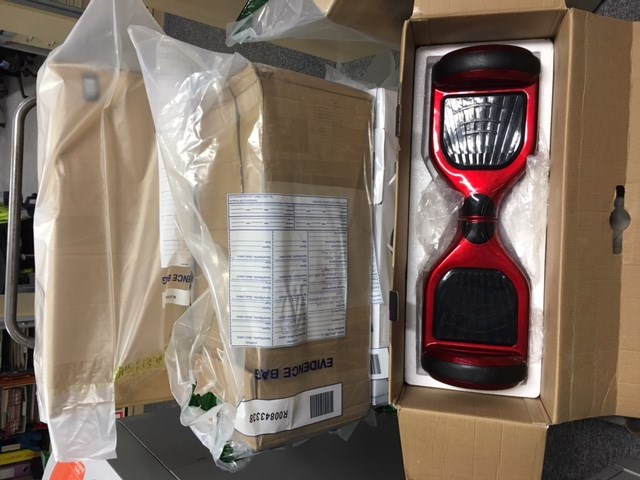 Unsafe 'Hoverboards' seized in Moray operation
Moray Council Trading Standards officers have seized six 'hoverboards' from Moray retail stores. Officers suspect that the hoverboards, or self-balancing scooters, are unsafe. The swoop follows similar action by Trading Standards across the UK.
Moray Council Trading Standards officers have seized six 'hoverboards' from Moray retail stores.
Officers suspect that the hoverboards, or self-balancing scooters, are unsafe. The swoop follows similar action by Trading Standards across the UK.
More than 17,000 imported hoverboards have been examined at ports and airports, with over 15,000 (or 88%) being detained at the border because they are unsafe. Many of the items have been found to have plugs without fuses and defective cut-off switches that risk the device overheating or catching fire.
Shops in Forres, Elgin and Buckie were visited by trading standards officers in a county-wide operation.
In recent months these faults have caused extensive damage to people's homes and Trading Standards officers across the UK – in conjunction with the Department for Business, Innovation and Skills and the Chartered Trading Standards Institute – are urging consumers to be vigilant this Christmas with these unsafe products.
Officers at sea ports, postal hubs and airports have seen an increase in the number of unsafe 'hoverboards' arriving at national entry points in recent weeks and are working around-the-clock to prevent these and other dangerous items from entering the supply chain.
Leon Livermore, chief executive of the UK Chartered Trading Standards Institute, said:
"Criminals and irresponsible manufacturers will often exploit high demand and attempt to flood the market with cheap and dangerous products.
"Consumers should not let a new fashion or craze cloud their judgement and remain vigilant at all times, to avoid taking home an unsafe product.
"Some products that are made abroad, principally for the overseas market, are not fitted with the correct plug and fuse for use in the UK.
"As a minimum the three pin plug on the device should state it's made to BS 1363. If it doesn't include this information, then don't buy the product. "
Scottish Fire and Rescue Service Station Manager in Prevention and Protection at Elgin, Ben Law said: "The service is aware of the concern around devices being marketed as hoverboards or balance boards and our advice would be to never leave a charging battery unattended.
"Don't exceed the recommended charging time and disconnect the battery when charging is complete. Make sure you only charge the battery in a location fitted with a smoke alarm and well away from flammable materials, soft furnishings, beds, sofas and carpets and don't charge batteries in an unattended vehicle."
Whether you already own one of these products or are purchasing for a loved one this Christmas, National Trading Standards has compiled the following tips for consumers thinking of purchasing self-balancing scooters:
Never leave the device charging unattended – especially overnight: a faulty cut-off switch (designed to stop the battery from continuing to charge once fully charged) or a plug without a fuse, as seen in many products detained so far, could lead to the device overheating, exploding or catching fire.
Check the device: things to look out for include the shape of the plug – the first unsafe products identified often had a clover-shaped plug. Also check the device for markings or traceable information, such as the name and contact details of the manufacturer and / or importer.
If buying online, look closely at the website before you hit the 'buy' button:
Try searching for reviews of the product or the seller – do these seem genuine?
Are there lots of spelling or grammar mistakes on the site? This can be a clue that a business is not professionally run.
See if you can find out where the company's head office is based – and whether that fits with how the website presents itself.
Do they have a landline number you can call if there are any problems? Bear in mind that if the company is based abroad, it can be more difficult to get a complaint dealt with or return a faulty product.
Read the small print – notice if anything seems odd, repetitive or in incorrect English.
Is there an 's' at the end of the 'http' part of the web address, or is there a padlock symbol in the task bar? This means the website is using an encrypted system that keeps your details more secure.
Don't be dazzled by a bargain: Are the prices incredibly low? If they look too good to be true, they probably are – particularly if some of your other checks have put doubts in your mind.
Be aware that criminals exploit high demand: When items like self-balancing scooters start to sell out at well-known retailers, the void is quickly filled by crooks churning out poor quality imitations that can put people in danger. Don't 'panic buy' from the first website you find – do your usual common-sense checks.
Report it: National Trading Standards needs your help to clamp down on unsafe products from abroad. If you believe that any online or face-to-face seller is selling potentially dangerous goods, or something you've bought has made you suspicious, report it to Citizens Advice consumer service on 03454 04 05 06.
Buying online for onward sale online? If you do this you are assuming the legal responsibilities of a business to ensure that what you're selling complies with product safety and intellectual property legislation. For information about this visit https://www.gov.uk/starting-to-import.
Moray Council area stretches from Tomintoul in the south to the shores of the Moray Firth, from Keith in the east to Forres in the west. The council and its 4,500 employees respond to the needs of 92,500 residents in this beautiful part of Scotland, which nestles between Aberdeenshire and the Highlands.
Famous for its colony of dolphins, fabulous beaches and more malt whisky distilleries than any where else in Scotland, Moray is a thriving area and a great place to live.
Headquartered in Elgin, the administrative capital of Moray.
Contact Information
Sharon Dunbar